Father's Day is just around the corner, and it's time to show dads how much they are appreciated! While traditional gifts like ties and socks are common go-to options, why not think outside the box this year? Instead of the same old predictable presents, consider surprising your dad with a gift that truly stands out: a complete car makeover with a Spiffy Awesome or Totally Awesome Detail. In this article, we'll explore the value of our mobile detailing services and why it's the ultimate Father's Day gift.
Perks Galore: Unpacking the Many Benefits of Mobile Car Detailing for Dad's Prized Ride
Let's face it, most dads have received their fair share of ties over the years. While they might be useful, they lack that personal touch and excitement that truly makes a gift memorable. Your dad deserves something special this Father's Day, something that reflects his unique personality and interests. Imagine the look on your dad's face when he sees his car transformed into a shiny, pristine masterpiece. A car makeover is not just about appearance; it's about showing your dad that you care deeply about his pride and joy.
Here's why a car makeover is the perfect standout gift:
Personalization: Spiffy's service offers customization options that allow you to tailor the makeover to your father's preferences. From choosing the perfect detailing package to selecting specific treatments and add-ons, you can ensure that every aspect of the makeover aligns with your dad's unique taste.
For example, if your dad is a dog lover, you could add a
pet hair removal treatment
. If he's the adventurous type that likes to take it off-road, you could gift him an
Undercarriage Turbo Clean
upgrade. It's these thoughtful touches that make the gift truly special.
Transformation: A car makeover goes beyond just a surface-level clean. Our top-tier detailing package smooths and polishes light scratches or imperfections on your car's paint, giving it a fresh and rejuvenated look. The interior cleaning removes dirt, stains, and odors, leaving a pristine and comfortable driving environment.
Picture your dad stepping into a car that looks and feels like it just rolled out of the showroom. It's a transformation that will make him fall in love with his car all over again.
Practicality: Car maintenance is something that every car owner needs to consider. By gifting your dad a car makeover, you're addressing this need in a practical and thoughtful way. Our detailing service improves a vehicle's appearance, helps maintain its value, and extends its lifespan, which we know Dad will appreciate.
Time-saving: We all lead busy lives, and finding the time to take a car to a physical location for detailing can be a hassle. With Spiffy's mobile service, your dad can enjoy the convenience of having the car makeover done at his own doorstep. No need to disrupt his schedule or spend time driving back and forth.
Just imagine the convenience and time-saving benefits of having a professional team come to your dad's location, giving his car a complete makeover while he relaxes or tends to other important tasks.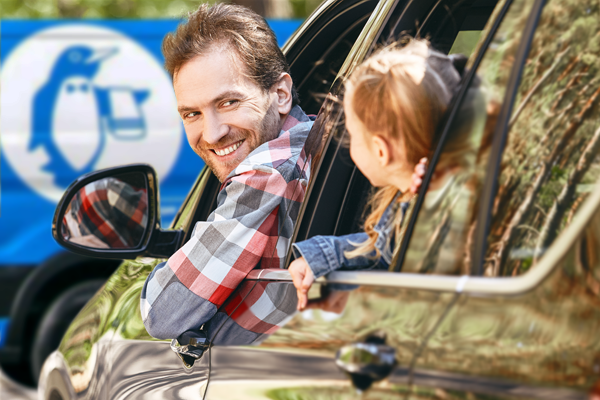 Give the Gift of Shine with Spiffy's Mobile Car Detailing Gift Cards
This Father's Day, give your dad a gift that goes beyond the ordinary. A car makeover from Spiffy's
mobile car wash and detail service
is the ultimate expression of thoughtfulness and personalization. It's a gift that transforms his beloved vehicle, showcases your care and consideration, and provides practical benefits for his everyday life.
Don't settle for another tie. Instead, choose a gift that will truly make your dad's day. Click the button below to get a
Spiffy gift card
for Father's Day today and show him he's the coolest pop!