Whether you manage a fleet or personal vehicle, keeping them clean is essential for aesthetic and practical reasons. There are many options on the market regarding car washes, from
automatic
to hand washes, and it can be tough to decide which option is the best.
One type of car wash that is becoming increasingly popular is the laser or touchless wash due to its 24/7 availability, nominal cost, and time efficiency, complemented by the absence of abrasive brushes and perceived reduced risk of damage to your vehicle. Washing your vehicle isn't just routine; it's car care, so if you're looking for the best quality car wash possible, let's compare laser versus hand washing.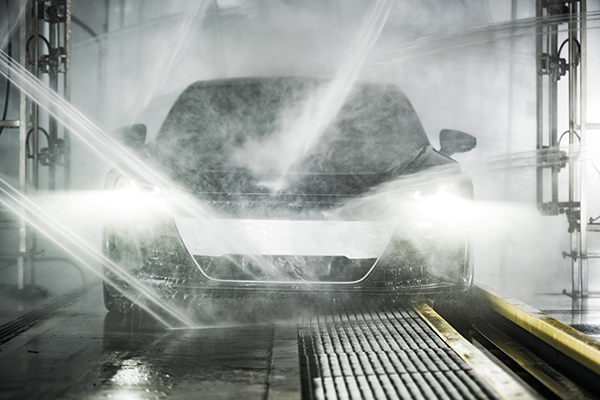 If You Want It Done Quickly...
We understand that many car owners choose speed over quality when washing their cars and may opt for a laser wash. If you're looking for a quick touch-up on a recently
detailed vehicle
, a laser wash could be for you. However, there are some drawbacks to touchless car washes. One is that they don't clean as well as hand washes or automated friction washes. This is because there is no direct contact between the washing equipment and your car's surface. As a result, caked-on contaminants like bug splatter, bird droppings, and caked on dirt can be difficult to remove. Another drawback is that touchless car washes often use aggressive cleaning chemicals that can wear down your car's finish and harm the environment.
In addition, touchless car washes typically don't do a great job drying your vehicle (especially troublesome during cold months when excess moisture causes more damage). This can lead to spotting on your finish if not appropriately addressed. While touchless laser washes may seem like the better option, they simply don't offer the same level of quality as a professional hand car wash.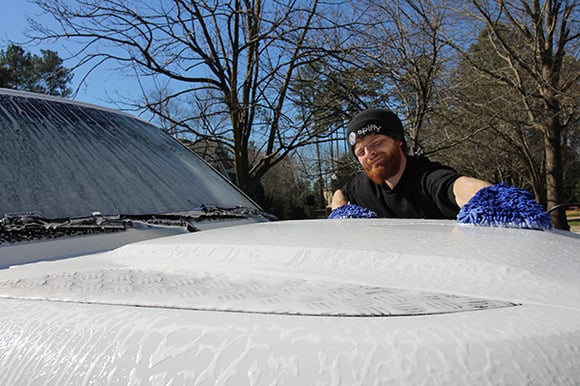 If You Want It Done Right...
Here are the top 5 reasons you should choose the Spiffy experience over a laser wash.
We use only the best materials and products to clean your car. Bonus - they are

environmentally friendly

, and we never leave a mess behind!
Our team of technicians is passionate about making your car feel new again.
Spiffy offers interior detailing, which is not possible with a laser wash.
We're mobile, giving you the ultimate level of convenience.
We have a 100% satisfaction guarantee policy - if you're unhappy with our work, we'll make it right!
Opting for a
Spiffy Wash & Detail
is a choice for a complete car care experience that will leave your vehicle feeling like new again. Unlike traditional and laser washes, which rely on abrasive brushes and high-pressure jets to remove dirt and grime, Spiffy's wash and detail services offer a more thorough hand cleaning process inside and out. This results in a deeper, more complete clean of all parts of the car, from hard-to-reach nooks and crannies to delicate paint finishes. Additionally, Spiffy wash and detail utilizes gentler cleaning chemicals that are better for your vehicle and the environment while also more effective at breaking down stubborn stains like bug splatter and road debris.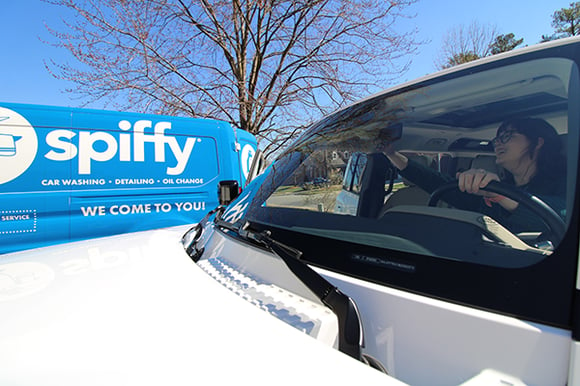 Field Expedient
There is no substitute for a professional hand car wash to keep your car looking its absolute best. Our technicians' meticulous attention to detail, friction, and pressure levels are impossible for a laser wash to recreate. Furthermore, while strategies like interior detailing may seem superfluous or even excessive for a laser wash setup, they are an integral part of our professional complete car care service.
So, is a touchless car wash right for you? The answer depends on your individual needs and priorities. A touchless wash may be perfect if you're looking for a super quick and cheap way to clean your car. However, if you're looking for a complete car care experience that leaves your vehicle feeling new again, Spiffy is the ultimate choice.
Book your mobile detail today and experience the difference of Spiffy's complete car care. We'll take care of your car from top to bottom, inside and out, leaving it looking and feeling its best.