The challenge of defining office work after covid is unique in our lifetimes, giving rise to new situations and terminology like "hybrid workplace." After adopting innovative ways to maintain operations through remote work, the past couple of years have been tough on everyone, and many people have gotten used to the flexibility of working from home. Fast forward to today, with some semblance of normalcy starting to return, companies across the country are looking for ways to incentivize employees to return to the workplace.
We understand that for employees, working from home has its perks, no commute, flexible hours, and increased productivity on specific tasks. So how can property managers make coming back to the office appealing again?
Office amenities
might be the answer.
We
conducted consumer research with over 1,300 people nationwide to learn more about their current work life and what would incentivize them to return to the office.
Here's what we learned:
The Rise Of The Remote Worker
Our survey results clearly show that for employees, one of the biggest perks of working from home is not having to commute. Our respondents noted that the top reasons they chose not to return to the office were their schedule flexibility and commute.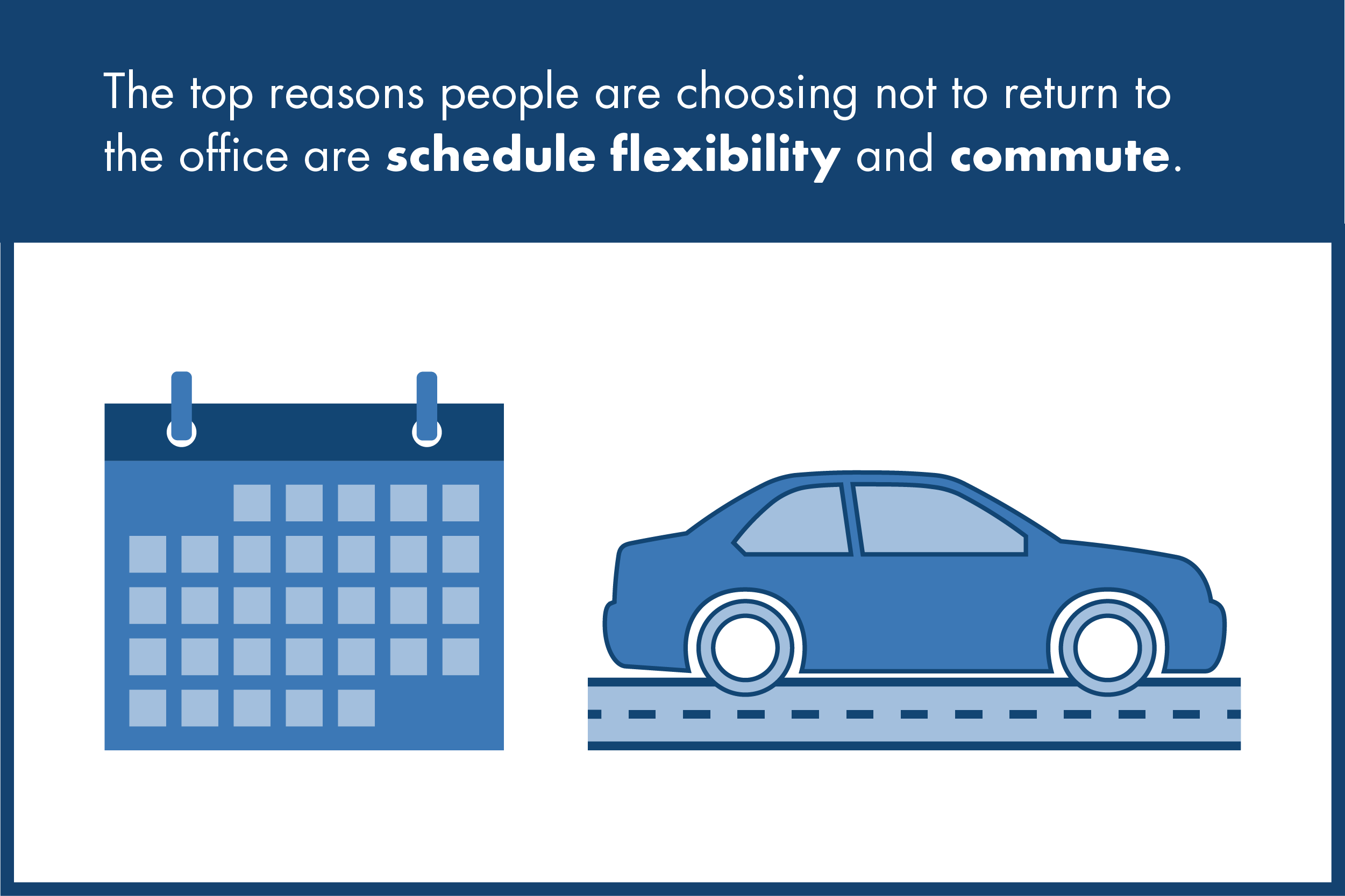 According to the study, respondents were most in the office on Tuesday, Wednesday, and Thursday. These findings suggest that employees value flexibility and convenience in their work environments, especially around weekends. As companies continue to navigate the post-pandemic landscape, it will be essential to consider these preferences when making decisions about workplace policies. Convenient amenities can either save time or increase comfort, and both improve morale which can be a big incentive to return to the office and retain top talent.
The data shows that about 50% of respondents are back in the office full time, while the other half are remote or hybrid. Being a full-time employee is demanding enough without worrying about creature comforts.
Employees who feel supported by their employers are more likely to be productive and engaged with their work. In today's competitive job market, offering amenities is one way to set your company apart from the rest. Employers looking to incentivize a return to the office can reap big rewards in productivity and morale by making their employees' lives a little easier.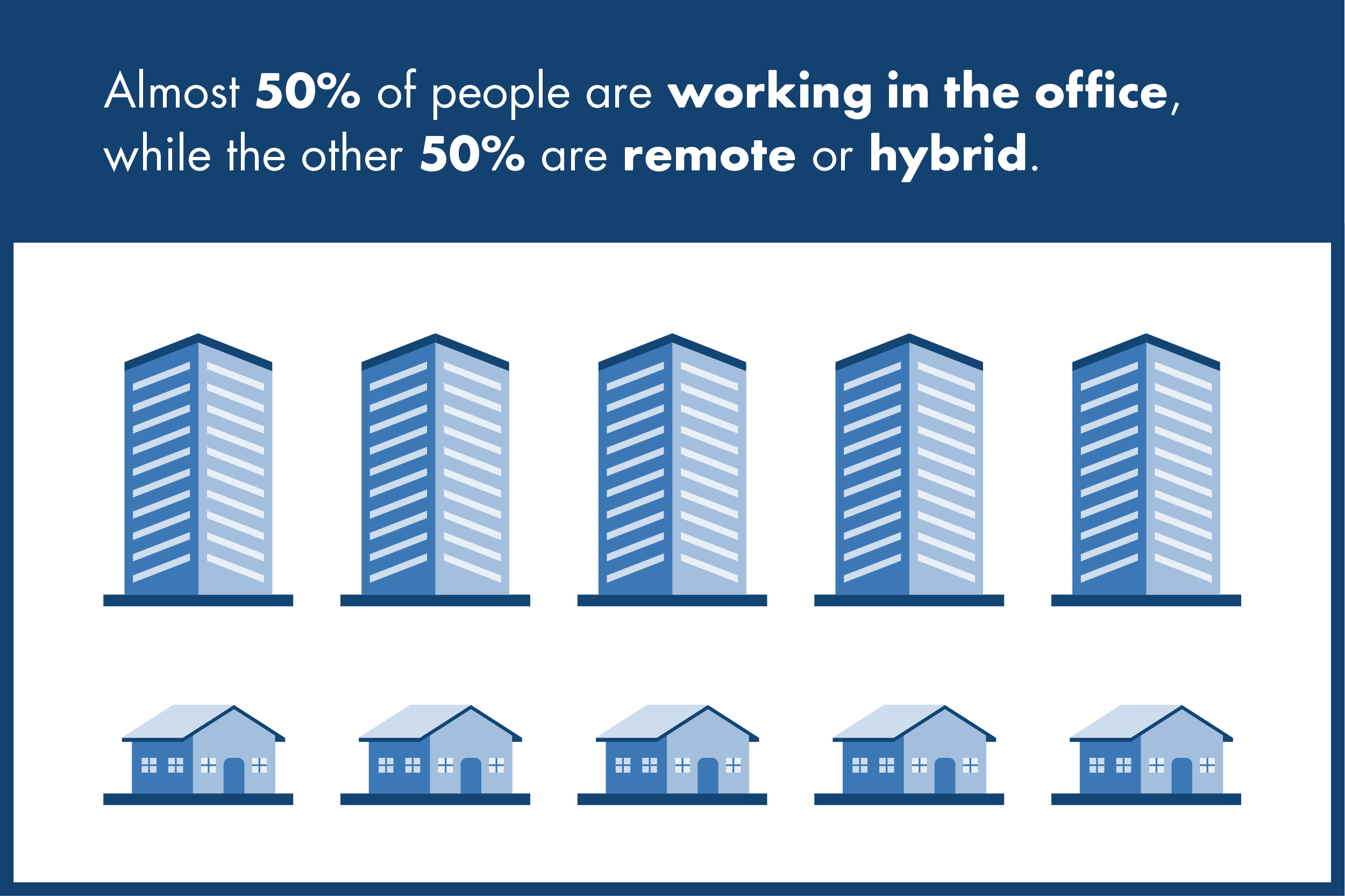 Amenities that offer conveniences, such as on-site car care services, food, and fitness areas, can be a big draw for employees and assuage unavoidable factors like a commute or a fixed schedule, which employees have to adjust to as they return to the office at scale.
Workplace Serenity
The intangible benefits of improved morale in the workplace can lead to more productivity, which benefits everyone from teams to employers and property managers. With respondents citing social connection as the most compelling reason to return to the office, our data suggests that employers should prioritize creating an engaging and accommodating work environment to attract and retain top talent.
The workplace can be improved in various ways, from providing amenities that facilitate collaboration, such as shared workspaces and common areas, to organizing events and programs that encourage employee interaction. By catering to employee needs for social connection, employers can create offices that attract job seekers and keep current employees satisfied with their work experience. Ultimately, this will contribute to a more prosperous and productive team overall.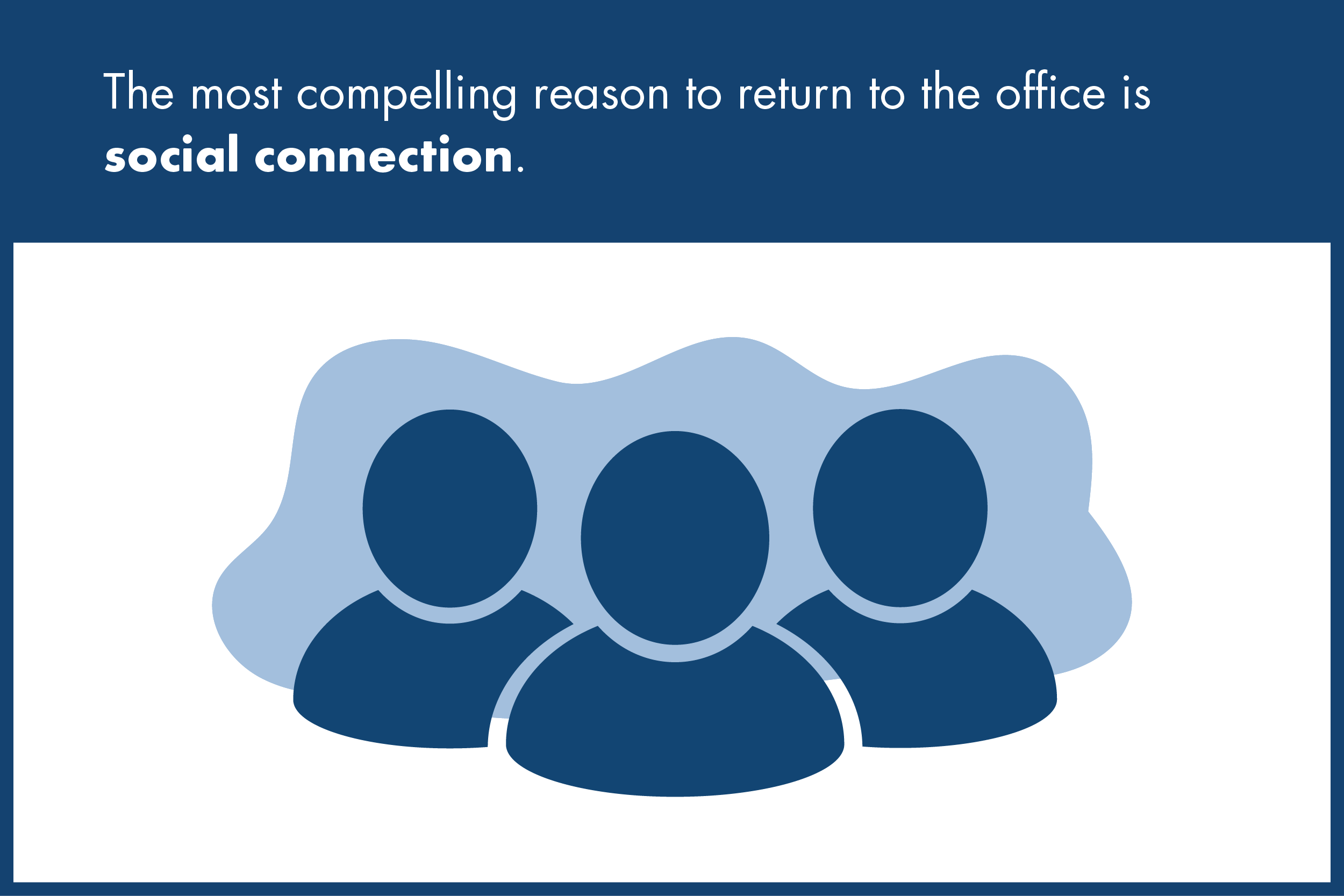 According to our survey, respondents overwhelmingly note that they would be more likely to return to their job if they had access to lifestyle options like healthy snacks, fitness areas, and food trucks. These results make sense, as feeling physically and mentally fit is crucial for workers trying to stay productive and happy at their jobs. Overall, given the many benefits, these different types of amenities can offer, it is clear why businesses should emphasize creating healthy and convenient work environments for their employees.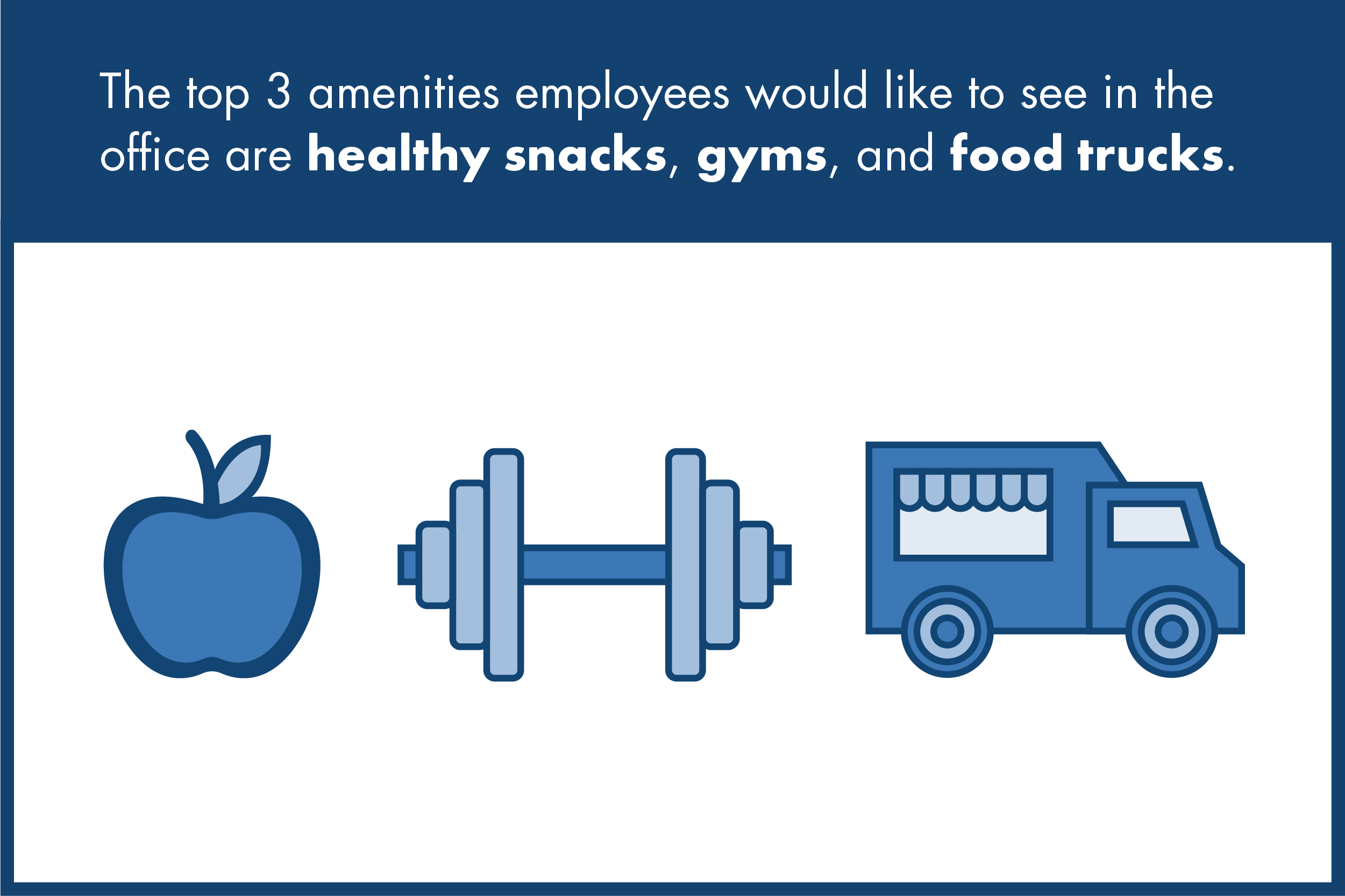 Zero Cost Amenity
Spiffy works with property managers nationwide to provide tenants with a consistently scheduled zero-cost amenity that is both convenient and green. When asked, the overwhelming majority of respondents (80%) noted having car services available at their offices would make their lives easier. This data supports the notion that as employers seek to incentivize employees back to the office, they can also improve morale by giving people the gift of time through on site car services.
Upgrading your office amenities shows employees that you value their time and appreciate their commitment to coming into the office. On-site car care is a valuable perk that can make a big difference in employees' lives. By making vehicle maintenance one less thing they have to worry about, employers demonstrate they care about employee wellbeing. In today's world, where so many employees juggle work and family commitments, every little bit helps.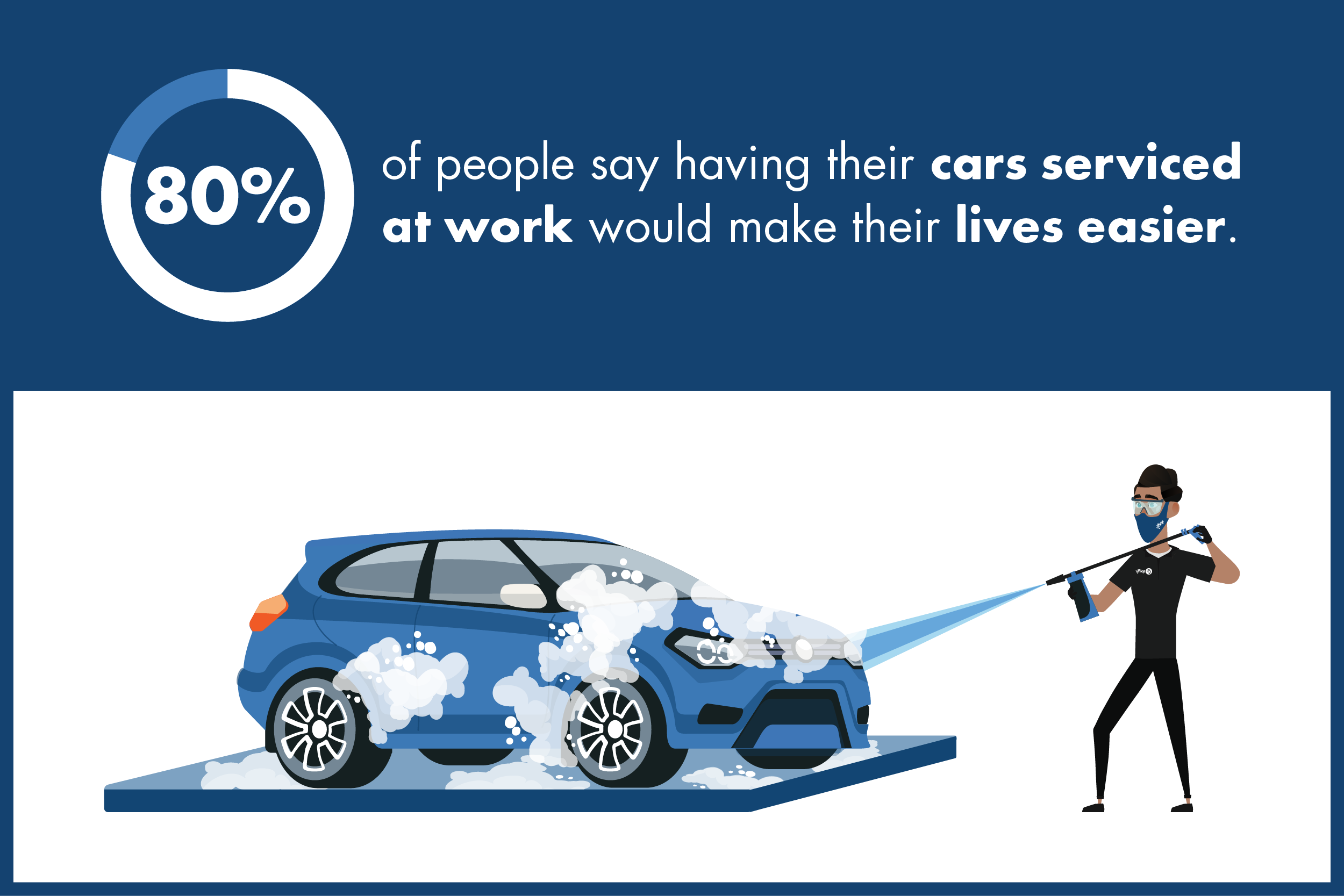 Our study showed that if on-site car care were offered, the top three services employees would opt for were mobile oil change, wash and detail, and tire services. By making these specific car services available right at the workplace, businesses can help take some of the stress out of commuting for their employees. For example, having your car's oil changed on-site eliminates the need to leave work early or spend long hours waiting at an auto shop. Similarly, getting your car detailed can keep it looking new all year round, while a new set of tires can help ensure you stay safe and comfortable behind the wheel. Overall, these onsite car services are some of the most beneficial to employees and businesses, making them an essential part of any modern workplace.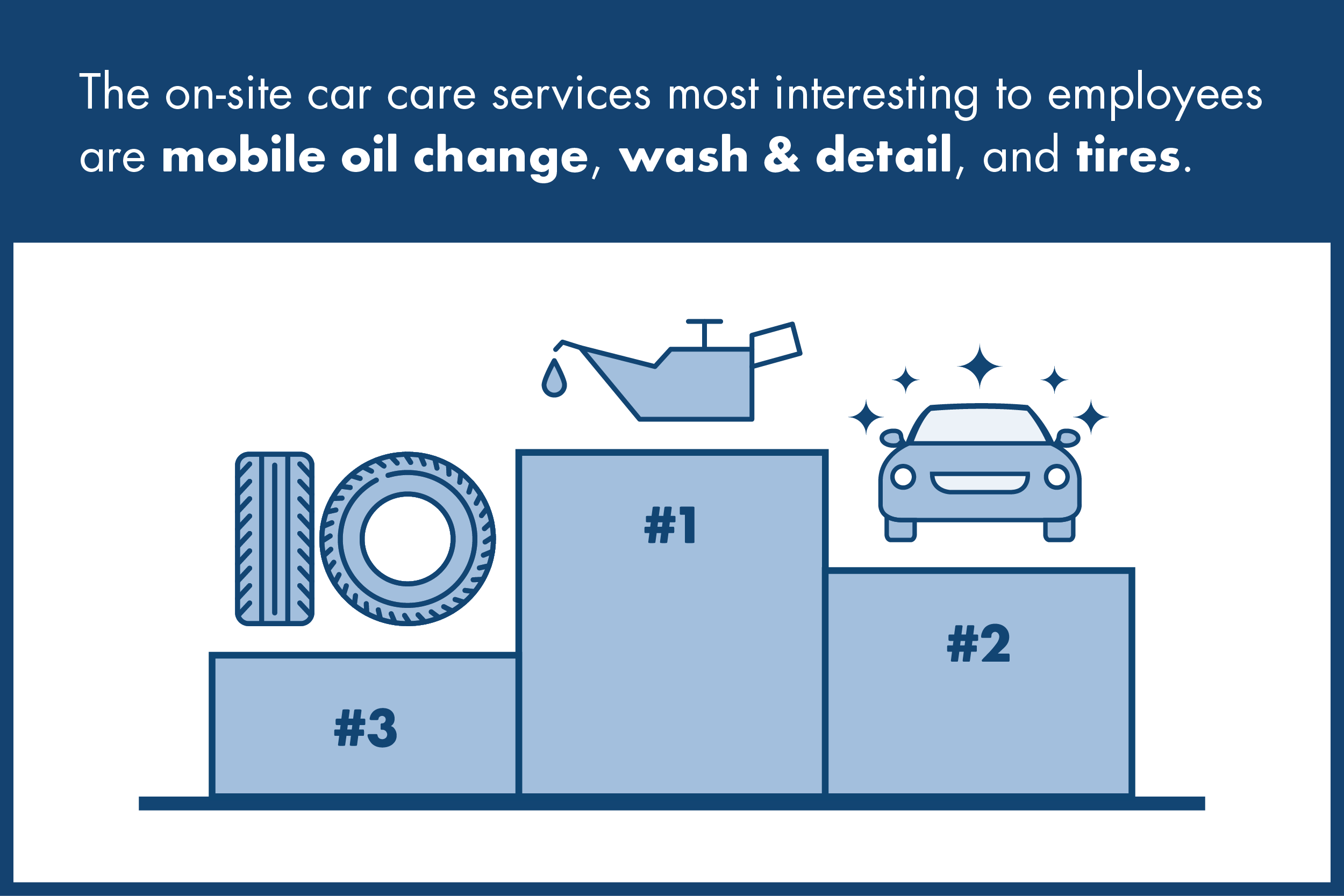 Amenities that save people time and improve quality of life are essential if employers are looking for a way to incentivize their employees to return to the office. Consider partnering with Spiffy as one of the best ways to keep your tenants happy. We offer convenient, high-quality green mobile car care services perfect for returning employees. Plus, there is no cost to you, the Property Managers!
Learn more
about our partnership program on our website or by contacting us today.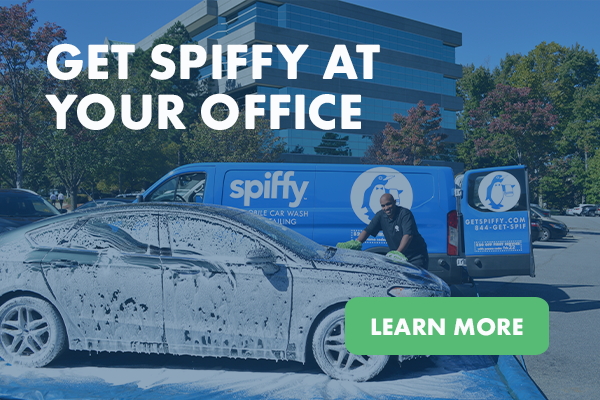 Posted in Education, Business, Car Care, Lifestyle, Services