As the automotive industry shifts towards digital retailing, dealerships that adapt to meet the demands of customers who seek convenience and efficiency in the purchase process through online channels are feeling the positive impacts. In a recent study, "'Mostly Digital' buyers – those who complete more than 50% of the purchase process steps online – were the most satisfied [with the purchase process] among all buyers."
These evolving consumer expectations are also hitting service departments as people seek more convenience, prompting dealerships to consider new ways of delivering services directly to customers on their terms. The industry's ability to keep up with this shift will depend on its willingness to innovate and adopt new practices, such as mobile digital servicing.
Comprehensive Convenience
Spiffy's digital service offerings empower dealerships to increase service bay efficiency, and customer satisfaction by providing convenient service options where consumers want them.
The dramatic growth of eCommerce over the past decade has been impossible to ignore, with online retail purchases in the US soaring from
$165 billion in 2010 to over $860 billion in 2020
. This trend has been driven largely by convenience-oriented consumers. In fact, 97% of consumers have abandoned a purchase because it was inconvenient, and 83% say convenience is now more important to them than it was five years ago.
McKinsey
reports that eCommerce has "redefined convenience" and compressed "a decade's worth of digital adoption into 100 days" during the pandemic. To thrive in this new reality, dealerships must adopt a complete solution that
prioritizes the customer experience
, offering mobile options, extending service bays, and increasing brand marketing and awareness. By bringing services directly to the customer's door with seamless communication, dealerships can keep up with the rapidly evolving consumer trends driving
digital adoption
and stay ahead of the competition.
Digital Servicing
is a comprehensive solution designed to empower dealerships to utilize online and mobile channels to communicate with their customers, providing more
convenient
and efficient service that leads to higher customer satisfaction and potentially increased revenue. According to a
recent study
, vehicle owners today are starting to gravitate toward technology channels to communicate with the service department, including making appointments online (27%) and via mobile app (7%), and paying online (17%).
Customers who receive photo or video communications regarding their maintenance work are three times more likely to have advisor-recommended work done, and offering valet or mobile service options has significantly improved overall customer satisfaction.
"71% of consumers reported they would increase their annual spend on aftersales if the experience improved (Figure 4). This represents a $210 million annual service revenue opportunity for OEMs, not to mention potential revenues from decreased brand shifting and increased customer recommendations."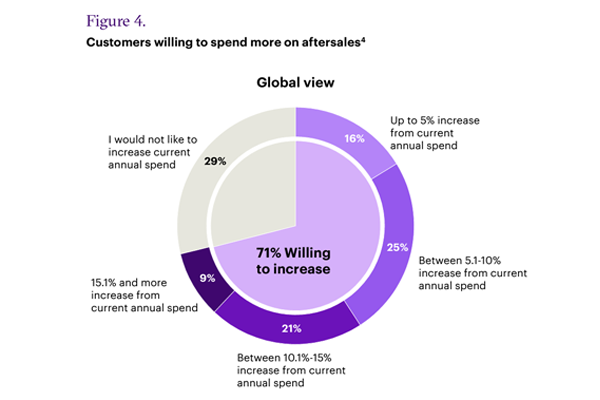 Image Credit Accenture PLC
In the current digital era, dealerships must adopt technology to stay competitive and keep up with the pace of change. By implementing Digital Servicing, dealerships can enhance their customer experience, leading to higher consumer satisfaction and retention rates. This is achieved through various means, including providing mobile options that increase the conversion of declined service requests, extending service bays, and offering new services without needing new brick and mortar establishments. Additionally, Digital Servicing enables dealerships to expand their brand marketing and reach through mobile billboards (i.e. branded service vans), increasing brand awareness. Overall, Digital Servicing is a powerful tool that allows dealerships to stay relevant and thrive in today's technology-driven market.
Digital Solution
Digital Servicing also brings convenience to the Service Manager's office, giving them access to service metrics and status directly from the field.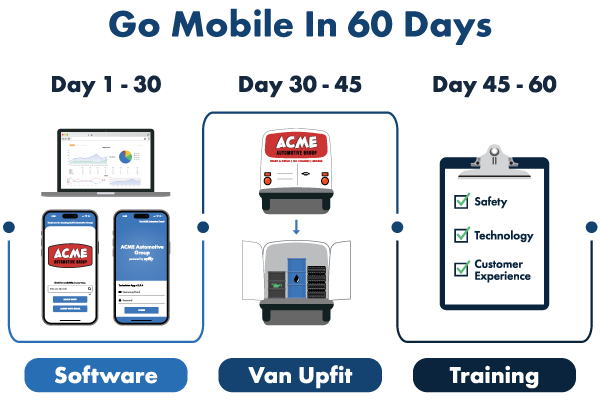 Convenience goes both ways for Digital Servicing clients and their customers, ensuring that dealerships can offer their customers the most convenient best service, helping them to improve customer satisfaction and increase revenue. The Digital Servicing onboarding process is designed to be efficient and effective, ensuring dealerships can go mobile in 60 days. Our innovative solution includes proprietary technology and equipment tested across over 2 million mobile services and counting. Additionally, our software solution includes a private labeled consumer-facing app, a technician-specific app, and mobile service management software. These tools provide end-users with a convenient way to schedule, rate, and pay for services, while technicians can access appointment information, vehicle condition documents, and service updates, and fixed ops managers can easily audit and support their mobile team.
With the management software, Service Managers have visibility into everything happening in the field, allowing them to manage all important metrics, customer appointments, and vehicle and technician movement to ensure a successful operation. Most importantly, we provide initial training and support to help dealerships and auto repair shops get started, including training at Spiffy's Corporate Office, on-the-job field training, unlimited access to virtual training, and operational manuals. With over 2 million services provided to happy customers, our Digital Servicing solution is a proven choice for those looking to launch a
mobile service
option.
Digital Difference
Join the Convenience revolution and start bringing services to your customers with the help of Spiffy's Digital Servicing team today!
As the automotive industry evolves to meet the needs of convenience oriented customers and adapts to modern industry best practices by adopting a digital-first approach, investing in Digital Servicing solution is the key to future success. The benefits of integrating on-demand Digital Servicing into your existing fixed operations will generate incremental revenue, create happy, loyal customers, and diversify your customer base.
There is no better time than now to launch on-demand Digital Servicing.
Contact us
digitalservicing@getspiffy.com and empower your dealership to meet your customers where they are.
Posted in Services, Digital Servicing