We're excited to offer a selection of highlights from our interview with Chris below. If you're interested to hear more, give the episode a listen and subscribe to stay tuned for future episodes!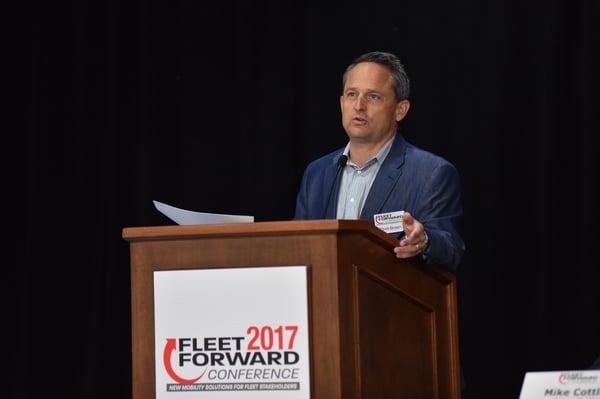 Chris on how rental car companies are reacting to car and ridesharing
Scot: I think I have a pretty good handle on it because I've been reading a lot of your content, but maybe for listeners, highlight what Hertz and Avis have done kind of around the areas of car and ridesharing. They're all very active in some of these other models.
Chris: Avis bought Zipcar about nine years ago at this point. And that's really where the sort of, we'll call it traditional car share, has a hold. The funny thing about car sharing and the rental traditional rental companies, the large rental companies, is that they're sort of pulled back. Enterprise Car Share still exists on college campuses and Zipcar is growing incrementally. Hertz has pulled back essentially from car share divisions.
If you want to talk Europe, Europcar is doing some cool things with mobility. And Sixt has some mobility programs too. One other thing to mention with car sharing and that is real growth potential for car sharing is gated in specific programs that would be offered as an amenity in various properties, corporate campuses, or residential buildings. That is a growth area. But for car rental per se, Zipcars where it's at, in terms of the majors in the US.
Chris on the changing landscape for car auctions
Scot: So auctions will be disrupted because you think they go online or you think just less cars we're going to turn over in this new world? Why will they get disrupted?
Chris: The car rental companies right now are making no bones about the fact that they want to sell those vehicles upstream, whether it's direct to the consumer directed dealers, and they're enjoying better margins by doing that. And they're willing to put together the effort, in terms of the infrastructure. So that's happening now. The auction market is really needing the movement that time to sale is critical. Because a car depreciates, you can look at the daily depreciation of a car and it takes time to move a car to auction, run it through the auction at a certain day, get it to the end user and be done with it and get paid. Auctions know this and they have their hand in online or virtual auctions too. But they're also diversifying.
Now if we look at a world that is an autonomous world, well that world looks a lot different and it looks a lot different for everyone, obviously including auctions. We expect much fewer vehicles, hopefully less vehicles on the road than there are today. And they'll be shared, but those vehicles, they're not going to get in accidents. That's the idea. And they're going to be electric vehicles, generally. Their length of service is going to be three times as long and with cars not turning over as much, that's just a lot less cars through auction lanes.
Chris on a future of autonomous vehicle ownership
Scot: Let's say it's 20XX. And we have a fair number of these autonomous vehicles around. Who do you think is owning them and taking care of them?
Chris:
Yeah, that's a really good question. Who has the right to win there? Obviously Uber wants to have that right to win. I can tell you that some interesting data from looking at
disengagements in California testing of autonomous vehicles
is really interesting. The first data points that are coming out about, at the very least, who's further along with the technology. In order to test in California, this has to be reported to the Department of Motor Vehicles. The number of times that the driver has to grab the steering wheel is called a disengagement. And Google's Waymo and GM's Cruise are way ahead of any other company. Tesla's not even on the map because they aren't really doing autonomous vehicle testing. But I found it really interesting that from the amount of miles traveled and the amount of disengagements, Waymo and Cruise are absolutely the best and they have half of all the autonomous miles travel.
So who wins in terms of being the provider? It's going to be partnerships. I think that the jury is still out for if you're going to open up your app and it's going to have Avis as the provider, but a GM Cruise vehicle is going to show up at your door. Is it going to be Uber? I think we have to consider Uber as a player, but then how is Waymo going to rollout their system? How are they going to roll out the retail consumer experience? We don't know. Are they going to seek partners? It's still up in the air now. I think we have to consider that General Motors is going to be there. They're the producer of the vehicle and they have their Maven unit is essentially their test ground for these types of things, only with internal combustion engine. So they're going to be a player for it as well. I think Ford's behind Waymo in terms of autonomous testing, but they are certainly actively looking at how ecosystems are forming around autonomous vehicles.
---
We here at
Spiffy
were thrilled to have Chris as a guest on the Vehicle 2.0 Podcast. His editorial experience offered deep insights into how the changes in the automotive industry have wide-reaching effects in car rental, auctions, and beyond!
If you don't want to miss a future episode of the podcast, then be sure to subscribe via your favorite podcast app or website and stay tuned for new releases every week!
Posted in Vehicle 2.0