On this week's episode of the
Vehicle 2.0 Podcast
, we start off with a recap of last week's
International Car Rental Show
from Karl Murphy, Spiffy President and Co-Founder. After talking with Karl, Scot dives into a variety of recent industry news items, which we linked for you below the episode player!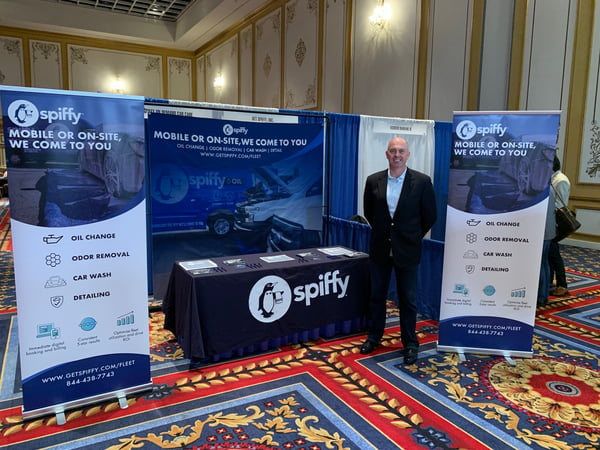 Connectivity
Smartcar vs Otonomo
One of our first guests on the show,
Sahas Katta from Smartcar
, issued a cease and desist letter to Otonomo on the morning of April 22nd.
On their blog
, they documented examples where Otonomo, now in their Series C funding round, appeared to copy from their copyright-protected API documentation.
"Otonomo has pulled down their docs.otonomo.io documentation website, but TechCrunch has reviewed an Archive.org Wayback Machine showing this Otonomo site as of April 5, 2019 featured sections that are identical to the documentation Smartcar published in August 2018. That includes Smartcar's typo "it will returned here", and its randomly generated sample code placeholder "4a1b01e5-0497-417c-a30e-6df6ba33ba46" which both appear in the Wayback Machine copy of Otonomo's docs."
"'It would be a one in a quintillion chance of them happening to land on the same randomly generated string' Smartcar's Katta tells TechCrunch."
Payments via Connected Cars
A recent study conducted by Kantar, comprising of 3,100 adults from across the US, UK, and Australia, found that more than half of consumers would purchase a car with the capability to make payments for fuel or parking. We've discussed the fact that
connected car
is already a developed area in the Vehicle 2.0 space, but this concept would push it into new territory for the average consumer.
Changing Ownership Models
Getaround buys Drivy
Getaround, a car-sharing company that we have mentioned on the podcast, announced that they have acquired Drivy, one of the largest car-sharing companies in Europe, for $300 million. This marks their first expansion outside of the US and will likely push their overall valuation at around $1 billion. Drivy founder and CEO, Paulin Dementhon, will continue to lead this new European side of Getaround.
Electrification
Ford Invests $500 Million in EV pickup truck maker Rivian
In addition to Ford's efforts to develop more electric vehicles, including their own plug-in version of the Ford F-150 pickup truck, the automaker has announced a $500 investment in Rivian. This partnership will culminate in a new battery plug-in vehicle for Ford, which will be revealed as a part of its vehicle lineup sometime in the future. Rivian is still preparing to produce their electric pickup truck with an estimated range of "more than 400 miles on a single charge".
China's EV Bubble
In the last two years, the number of EV manufacturers in China has tripled. While sales of electric vehicles are expected to reach a new record of 1.6 million units sold, the current manufacturing space has become too crowded for every company and startup to survive. Currently, EV sales in China make up around 4 percent of total sales and traditional car sales continue to plummet as the Chinese government pushes for new-energy vehicles to make up 20 percent of the total market by 2025.
EV Registrations in US Doubled in 2018
2018 was another year of growth for electric vehicles in the US with 208,000 new registrations for EVs, which was more than double the amount filed in 2017. California makes up about 46 percent of those registrations, and owns 59 percent of the total market share of registered EVs in the country.
Autonomy
Tesla Celebrates "Autonomy Day" with Full Self-Driving Reveal
While Tesla's Autopilot mode is only at Level 2 of autonomy, their announcement on April 22 regarding their custom hardware chip promises to bring the automaker closer to the much desired Level 5 of autonomous driving. This new hardware goes against the grain by relying on cameras over LiDAR technology, a decision which was later
backed up by a paper
from
Cornell University
. Work has already begun on the next generation of this chip, which will push Tesla even closer to fully autonomous vehicles.
GM's Cruise Prepares for a Big 2019
GM's Cruise program, which has the
second-most autonomous miles driven
, continues to march towards their goal of launching a commercial service this year. In order to prepare their autonomous vehicles for their
Cruise Anywhere
service, they have buckling down on gathering data through real-world testing in San Francisco and thousands of simulated hours. All of this preparation has GM optimistic that they can launch in multiple cities later this year, and we'll be sure to keep up with their developments on future episodes.
Uber S-1 Discloses AV Research & Development Costs
Following Lyft's lead, Uber has officially filed their IPO and their S-1 document has revealed some interesting tidbits about their research and development costs. The company spent $457 million last year on "research and development of autonomous vehicles, flying cars (known as eVTOLs) and other "technology programs" and will continue to invest heavily in the futuristic tech even though it expects to rely on human drivers for years to come." Uber has also spun off their AV division, which was valued individually at $7 billion.
---
We hope this week's episode offers a unique behind the scenes look at the International Car Rental Show, as well as an informative take on the latest news to come out of the Vehicle 2.0 space in the automotive industry.
If you don't want to miss a future episode of the podcast, then be sure to subscribe via your favorite podcast app or website and stay tuned for new releases every week!
Posted in Vehicle 2.0