As we continue to grow our Franchise model with new owners and cities, more interested entrepreneurs have reached out for in-depth information needed to take the next step. That's why we kicked off our #DriveYourFuture franchising webinar series in early May 2022, starting with our first session: Breaking into Mobile Car Care as a First-Time Franchisee.
In addition to hearing Bethany Hinson's story as one of our first Franchise Owners, our attendees had the opportunity to ask questions live for her and our CEO, Scot Wingo. Together, they answered dozens of questions from a packed Q&A, which covered a gamut of topics for those curious about franchising with Spiffy.
Here are the top takeaways from our live Q&A. You can also view our on-demand recording to take in the full experience and sign up for invitations to upcoming franchise webinars.
What can I expect from hiring? How hard is it to recruit and retain talent?
"I think that would probably be our biggest hurdle when we launched. But when we do have a little bit of turnover, we've got Adam, our Market Manager, who has [a] series of training on the job. It's not something that you can really get around in this market with the fact that there's going to be some turnover. It's just something to be aware of when you go into the business; it's not something that is going to be earth-shattering to anybody who has a business. It can be hard to find good technicians, but we have found great technicians. It's not a matter of if but when.
"Treating your employees right [is] a huge part of it. When you're thinking about your local franchise and building a culture, just trying to engage those technicians and learning from "Why did they leave?" and taking those learnings [to see] how you can effectively apply it to the next technician and make sure that you're constantly improving there."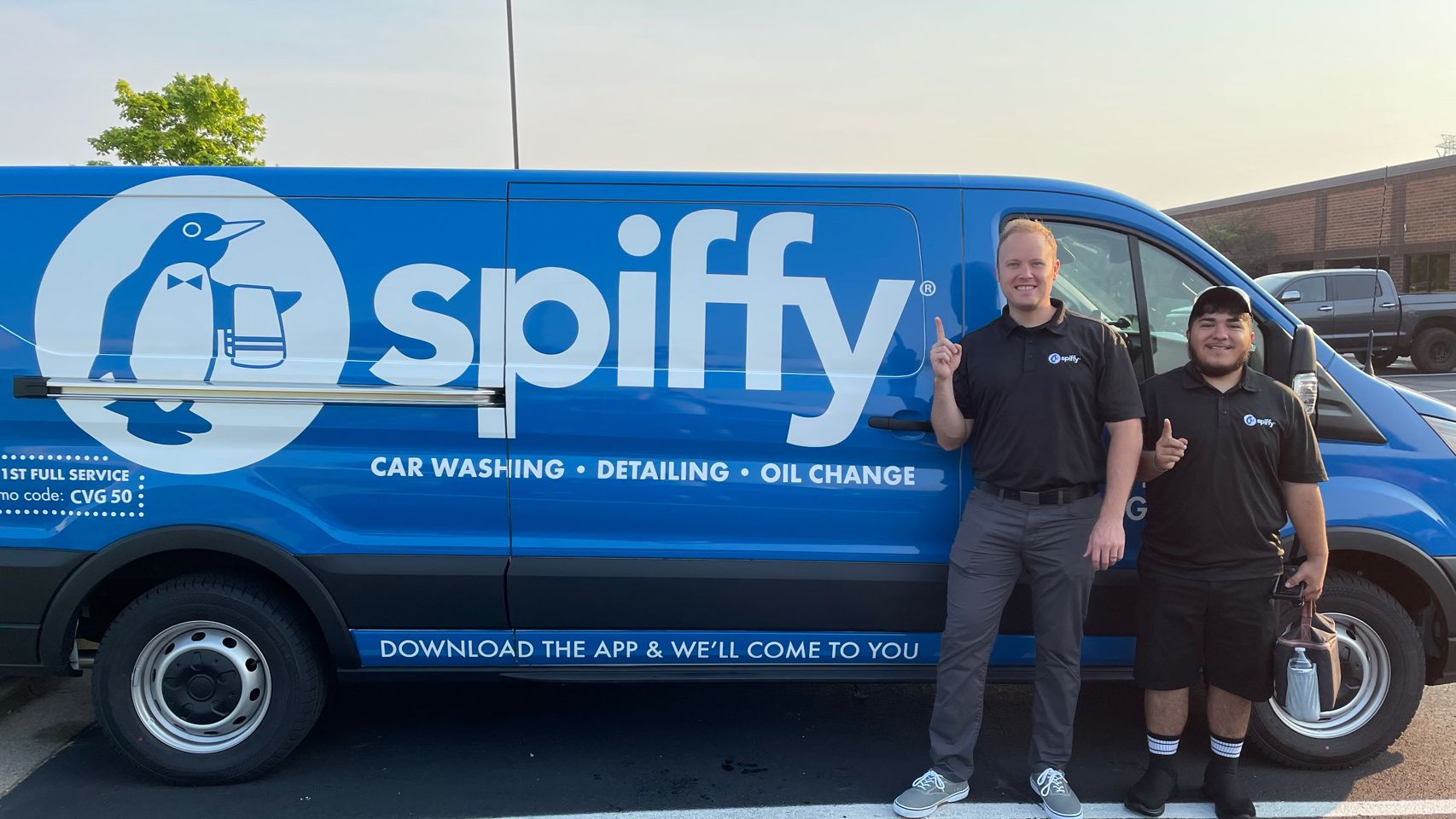 What are Cincinnati's long-term goals with Spiffy, and what is the path to get there?
"My long-term goal with Spiffy is to grow that market beyond Cincinnati. I want to be able to take southwest Ohio and potentially down into the Northern Kentucky area. First and foremost, our year one goal is to get to five vans, and we're going to achieve that, so we're excited about that. From there, let's get to 10 [vans], so we're incrementally strategizing based on the need from the market. But that's a little bit of our strategy, kind of long term [from a] very high level."
Is there any sales training that came with buying the franchise?
"Yes! They do some webinars for sales training, they've got recordings, and then outside of the training itself you have the ability to connect with the Sales team. And there's a pretty awesome open-door culture within Spiffy. You're not treated like a redheaded stepchild or anything like that. Being a franchisee you actually get those resources available to you. We've had many a time where we've either called the Sales team or had some emails back and forth, and they've always been there to support us. You'll get a lot of that sales training through those calls and those questions as well."
What kind of time commitment can I expect as a Spiffy franchise owner?
"It varies based on the week and what your leads are. But I would say, depending on how ambitious you are on your strategic goal and how many vans you're wanting to achieve in a year, it's going to be different. I would say we probably give about 20 to 30 hours at a bare minimum [between] myself and Brian, doing calls and following up on leads, creating proposals, [and] creating marketing initiatives. There's a lot that you can still do in the background and really feel a part [of the operation] and set that direction. But it's really up to the owner themselves to define what kind of hours they're looking to create for that."
Have you had any supply issues, and how did you deal with them?
"Anytime we've had the supply chain issues, there's been a workaround presented, or we've identified some kind of workaround. We had one distributor where we weren't getting oil filters, and they had a backorder and didn't really have an idea as to when [it would be fulfilled], so we had to go with a different distributor for that scenario. But it's minimal in nature as far as logistically pivoting to another company. It's kind of the way of the world, so nothing big."
---
Scot and Bethany's chat about franchising with Spiffy gave plenty of great insights for live attendees. We're grateful for such engaging questions and look forward to exploring more in future #DriveYourFuture webinar sessions!
Are you interested in viewing the full webinar on-demand or signing up for future sessions? Click the button below to access the recording, and we'll let you know when new live webinars are scheduled!
Posted in Franchising, Webinars