At Spiffy, we're thrilled to offer a franchise model for passionate entrepreneurs, whether they're first-time business owners or are looking to open another business. Amazon DSP owners have been optimizing their fleet maintenance strategies with our mobile services, and a few have reached out to open their own Spiffy franchises after seeing us in action.
Our first Amazon DSP and Spiffy franchise owner is Seth Edwards in Buffalo, NY, and it didn't take long to chat with him and get a clear look at what led to this decision. This interview was conducted on May 6, 2022 ahead of Seth's franchise launch and has been edited for clarity.
Can you tell us a bit about yourself and what led you to owning an Amazon DSP?
I relocated to the Buffalo area with my wife, Julie, several years ago. I was already in the DSP process, but there wasn't any in Buffalo, so Julie and I started one and have run it together. To us, it was an opportunity to be an entrepreneur and own our own business. I have experience with fleet management and she has people management experience from nearly 20 years of corporate business.
As we grew over time, I was looking for a company to do mobile overnight maintenance for my fleet when it's off the road. It's frustrating and time consuming to do the typical preventative maintenance schedule during the day. I found Spiffy and I looked into it more, but there was nothing in Buffalo. That led to me starting to look into their franchise model, which I thought would be a good fit. There are a lot of similarities between a DSP or any last-mile delivery company and Spiffy: both from the fleet's perspective and the driver perspective, and then down to managing the drivers and promoting a safe environment. That commitment that goes between both jobs is the same, so we look for a safe driver who is also responsible. We were kind of already dealing with the same type of employee, they are going to be very similar as far as pay and compensation.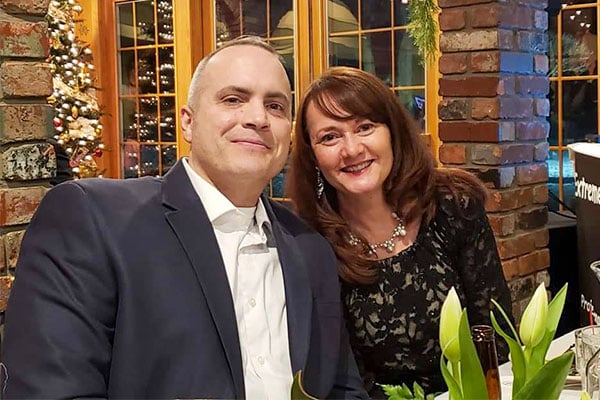 Outside of the employment side, it's also about understanding what Amazon requires as far as preventive maintenance and their systems. Since we have that, it's easier to integrate Spiffy with our business and other DSPs. We already know about things like Auto Integrate, LeasePlan, Element, and those types of fleet management companies. That's what made everything click with Spiffy, just knowing the similarities and how they connect from the DSP side and the maintenance side. So far, I think it's a good fit.
What was the process of going from researching Spiffy to reaching out and learning more about franchising?
It was great. The biggest part was going out for Discovery Day and seeing everything that Spiffy does. That helped me really stop and think, "What is Spiffy's goal and how does it connect with my goal?" Things like oil change and even mobile detailing aren't new or exciting, but the way that Spiffy presents it with the packaging and technology is. Spiffy's app obviously appeals to the consumer side, and unless you have the technology experience and know-how to do the same, you're just going to be another mobile maintenance or detailing business in comparison. For Spiffy to keep making their app better is a big difference between them and any other mobile car care franchise.
Seeing all that in person, alongside the people at Spiffy HQ who help drive the business, was where I went from just looking into franchising with them to really believing in the model. As an Amazon DSP owner, I know first-hand how important it is to keep your fleet vehicles on the road. I think a strength of Spiffy is the fact that they strive to meet the customer's needs, whether it's third-shift fleet maintenance or a customer at their home.
What is your strategy for managing both the DSP business and your new Spiffy franchise?
It's going to be a challenge. There's always the question of "how much can you handle?" I wouldn't recommend this for a new DSP owner, who is in their first or second year with the business, solely because that first year is so critical and Amazon can be very demanding. They prefer their DSP owners be focused on just that business in the initial year. Beyond that, I'd say it makes a lot of sense for a DSP owner to consider.
With Spiffy, we'll have a bit of flexibility that we don't have on the DSP side. We have more control as to who we'll be servicing, and we can avoid taking on more than we can deliver for our customers. It's more of a controlled growth, which also fits well with the supply chain issues right now. We'll see how well it works when we launch in a few weeks, but I'm feeling good about our plan to manage both businesses.
Why do you think the mobile car care industry is appealing to DSP business owners?
I think it comes down to not having just one customer as their only customer. With a DSP, you're serving Amazon while managing your own fleet. With Spiffy, you can branch out to different customers, even other DSPs or your own DSP business. As someone about to run both businesses, that offers a lot of potential for success down the line as we grow the Spiffy side. Not only do I have a business that supports my initial business, but it connects me with some great local clients right off the bat.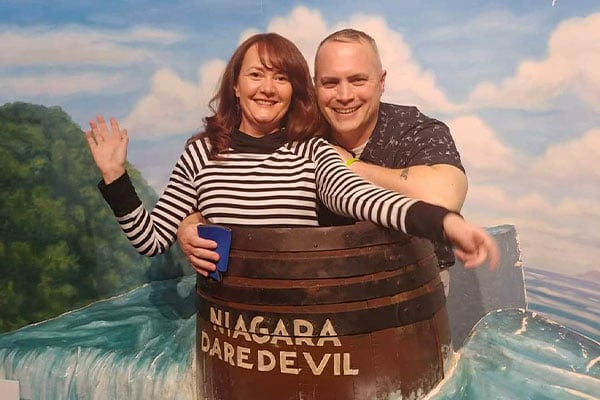 What makes you most excited to serve the Buffalo market; local fleet clients and businesses, or individual customers?
I think we're going to be pushing a lot of marketing towards the fleet accounts. We'll see where the consumer business goes after we see what's out there because we will have to shift the model in the winter, more towards maintenance like tires, brakes, windshields, and all that type of stuff. But fleets always need to be done, they always need preventative maintenance, so that's what we're gonna look at first.
I think there's still going to be a good market for people to have their vehicles washed. Delta Sonic is the big car wash company up here and they're very profitable. It's not like they started integrating oil changes and stuff in their stores, or that they shut down during the winter. Nope, they still run. So there's still a business out there, it's just about supporting them. We just need to find those individuals who prefer convenient services that help them save time. Combine that with the fleet accounts and I think it's gonna be a hit.
Anything else you'd like to share about your experience so far?
The staff at Spiffy have all been very friendly and helpful, and they're building a good company. Obviously, I think it's gonna succeed, or I wouldn't have bought a franchise. It's a young company with a lot of potential, but it's always on the cusp of innovation with their technology. That's really where its strength is, and where we can make a difference.
Cars are going to change over the next couple of decades with a transition to more electric vehicles. So the oil parts are going to start going a little bit on that side, but you'll still have fleets, which are still going to use combustible engines in certain capacities for a while. No matter which type of car we're servicing, they'll always need new windshields, brakes, and tires. They're going to need to be cleaned and detailed. That long-term view makes it easy for me to see success with this franchise.
---
Thank you so much to Seth for talking about his new Buffalo franchise. We're excited to see how he serves his community with convenient mobile services, all while managing his Amazon DSP business.
If you're interested in booking a car wash or detail with his crew, click here to get started with $20 off your first service.
If you're looking to learn more about starting your own Spiffy Franchise, contact us today!
Posted in Franchising