If you're on the hunt for a one-vendor, on-demand solution for your fleet's maintenance, then our
Fleet Management as a Service
model is ready to get to work for your vehicles. Beyond a basic wash, oil change, and tire rotation, there are plenty of Spiffy services to add to your fleet's maintenance plan. These Spiffy upgrades cover the finer details or specific problem areas across your fleet and are designed to address each vehicle's needs.
What Services Does Your Fleet Need?
With the Fleet Management as a Service model, it's easy to rest assured in knowing that all of your needs and more can be addressed. Our ever-growing selection of preventative Spiffy upgrades is available to tailor every appointment to the serviced vehicle. In our experience as an on-demand fleet maintenance solution, these specific upgrades have been the top performers for fleets across the country.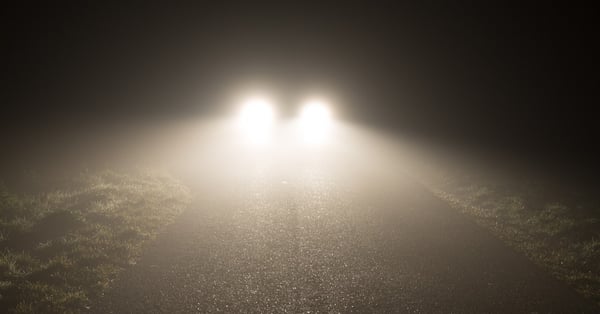 Headlight Restoration
If you have vehicles in your fleet with dull or yellowed headlights, then our Headlight Restoration upgrade should be at the top of your list. Some mechanics might try to get you to replace the headlight lens of any afflicted vehicle completely, but our headlight restoration process is quicker and much less expensive than a replacement. Our technicians work to improve the appearance of your headlights by attacking that cloudy or yellow look, which in turn gives a high-gloss shine and makes them nearly as good as new!
How often you choose to restore the headlights of your vehicles is ultimately up to you, but our technicians recommend choosing this upgrade every six months. Doing so helps prevent a return of that pesky cloudy and yellow look from UV exposure, while also attending to any damage that can come from sun exposure, dirt, and other road debris. Keeping up with this aspect of your vehicles can be vital for driver safety, as well as the long-term value of your entire fleet.
Decontaminator
Do you ever have a problem with strong odors in your fleet vehicles? By adding a Decontaminator upgrade to your next appointment, you can put an end to odor-causing bacteria, viruses, and fungi with ease. The Spiffy Decontaminator eliminates odors and their originators with the power of Simoniz ODOR-OUT™. This reliable product leaves no traces of residue and easy to use for dependable results.
The ODOR-OUT™ vapor system attacks odors in any porous materials and is free of harmful volatile organic compounds (VOCs), such as carbon monoxide or carbonic acid. This method ensures that the microbes are truly eradicated, rather than merely covered up by an unpleasant chemical smell.
Rain Repellent
Another top choice for fleet managers is our Rain Repellent upgrade, which brings the same attention and care to the windshields of your vehicles as airplanes and professional racers do. By forming a chemical bond with your windshield, you can experience a level of hydrophobic protection that eases the workload for your wipers. Rain repellent makes clearing ice and snow much easier by actively preventing both from building up on your windshield. The same can be said about dirt, which gets caught by the water and carried away as it glides down your windows. The hydrophobic coating acts like a self-cleaning agent, which can keep a vehicle's glass looking extra shiny for months and help to reduce water spots.
How Else Can Spiffy Serve Your Fleet?
Outside of those top three upgrades, several more options are available to add to your fleet's service plan. While these are more dependent on specific situations, they can go a long way to making a car, truck, or tractor-trailer feel like new. Whether you rent to a customer or want to offer the best for your company's vehicle operators, these are our top choices for you to consider.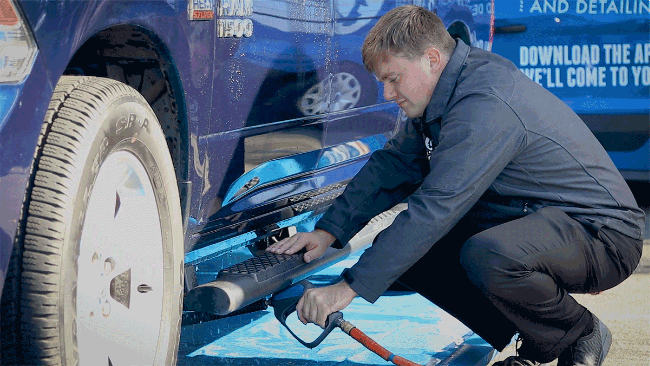 Undercarriage Turbo Clean
One area that tends to get ignored during vehicle services is the undercarriage, which handles more debris and rough terrain than the average part of a vehicle. A high-pressure cleaning of your undercarriage can help prevent unexpected maintenance issues that linger below the surface. These include removing dirt, road salt, and grime, which helps to lower the chances of rusting. By ignoring the undercarriage of your fleet vehicles, you are running the risk of encountering overheating problems, which can cause a slew of damages under the hood.
Cabin Air Filter Replacement
The air quality of your fleet extends beyond any foul odors. Like an air filter in a home, cabin air filters are designed to prevent harmful debris from circulating wherever air flows in a vehicle. Over time, cabin air filters become concentrated with pollutants and captured debris. As a result, older cabin air filters can lead to under-performance of the A/C system, causing weak airflow from the cabin vents. It can also lead to unfiltered air circulating in the cabin, which affects drivers and passengers alike.
We recommend replacing the cabin air filters in your fleet every 12 months or 12,000 miles. If you notice the A/C and heating system in one of your vehicles isn't working as well as it should, or the air is noticeably odorous and stale, then it is likely time to replace the filter.
Pet Hair Removal
Driving a vehicle with pet hair embedded in the seats or carpet can make it feel dirtier. You might not allow pets in your vehicles for this reason, but this upgrade should be at the top of your list if you do. With our Pet Hair Removal upgrade, we set out to eliminate any accrued hair with a meticulous carpet vacuuming and brushing process. You can choose between our medium and heavy options, based on how much pet hair is embedded throughout the car's interior.
Biohazard Removal
We've encountered customers and fleet vehicles alike that fall victim to passenger accidents. If any biohazard or bodily fluids, such as blood, urine, feces, or vomit, are found present in one of your vehicles, we will get to work to address the mess head-on. We provide our technicians with a special biohazard mask and gloves, as well as the stronger chemicals necessary for cleaning the vehicle.
Each of these popular upgrades has been beneficial for our fleet clients, but our available offering won't stop there. Be sure to stay up to date on the latest additions to our list of Spiffy upgrades and keep your fleet correctly maintained. If you're interested in learning more about how Fleet Management as a Service can get to work for you, then click the image below to
Spiffy your fleet
!
Posted in Fleet