Since Spiffy was founded back in 2014, we've steadily expanded our service area from our HQ in Durham, North Carolina, to over two dozen corporate locations throughout the US. In doing so, we've established an excellent playbook for a successful market launch, which has been a valuable resource for our franchise owners.
But that's not the only support that franchisees have come to expect from Spiffy. It's our top priority to help every owner achieve success in their home market, which is why we invest heavily in a suite of resources that keep franchisees focused on running their business. It's among the top reasons
why franchise owners choose Spiffy
in the first place.
If you're curious to see what kind of support comes with your choice to invest in a Spiffy franchise, let's break it down.
A Proven Marketing Team, at Your Service

Marketing and advertising are essential components to running any business, and Spiffy franchisees get the benefits of our in-house team of marketing experts. Integrated marketing strategies have been vital for generating consumer demand in our corporate-owned markets.
Having run hundreds of successful campaigns at this point, our team knows how to generate demand that fills up our technicians' schedules. Aligning marketing efforts nationally, combined with supporting local marketing initiatives, allows our franchise owners to focus on providing the best service they possibly can to their customers.
Diversified Lines of Business

Consumer services are just one aspect of what we do, though. We also have our Fleet business, which has grown rapidly over the past several years. Our land-and-expand sales strategy benefits all Spiffy owners by piloting with national fleets in one or two markets, exceeding expectations, and expanding to their other markets over time.
Our Sales team and Fleet Account Management team have helped with introductions and sales meetings in each of our early franchise markets, enabling our franchise owners to benefit from the relationships we've built at the corporate level. Many of our early franchisees have opted to slowly roll out the consumer side of their business, as the capacity of their first couple of vans is often completely occupied by fleet business from our existing accounts.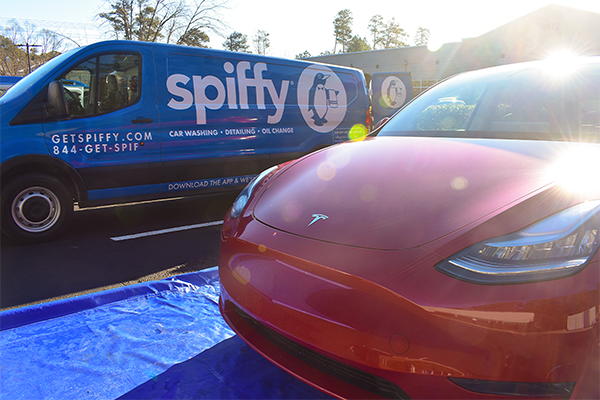 Technology Drives it All

The technology we've developed is critical to how we operate an efficient on-demand business and a big reason why many franchisees decide to invest with us. There are four main components of our technology that drives franchisee success.
First is our backend tool that we call Conductor. It drives our operations from start to finish. We use it for everything from shift management and scheduling to tracking financial metrics, operational efficiency, technician performance, and more.
The second piece is the Consumer app, where the vast majority of our services are booked.
The third is the Technician app, which provides checklists and digital documentation of every appointment, enabling us to offer the highest level of service in the industry.
Finally, there's the technology within the van itself. The Spiffy Labs team has iterated on our van design over the years and are now on version 10 to achieve optimal performance and efficiency.
Our Top-of-the-Line Customer Care Staff

Since Spiffy was founded, our goal has been to offer the best customer experience in the industry. That starts with our internal Spiffy Customer Care team, also known as SCC, which handles scheduling conflicts, customer support, and everything else revolving around the customer experience.
They take calls from customers and correspond with you, the franchise owner, to resolve issues and deliver superior results. Again, our goal is to enable you to focus on providing the best service possible, and we're more than happy to take customer care off your plate.
All of that is just a snippet of the support you'll receive at Spiffy. Hopefully, it gives a clearer idea of how invested we are in making our franchisees successful. Your triumph is our triumph, so let's build your Spiffy business together!
If you're ready to learn more about franchising with Spiffy, then
reach out to us
directly!
Posted in Franchising