Starting your own business isn't easy. If it were, then everyone would be launching their dream company and taking an easy route on the road to success. What makes franchising so enticing is that you're able to avoid the growing pains that arise when you start from scratch. You can have confidence in your business model, depending on the industry you're interested in and the franchisor you choose.
If you're new to mobile car care, then you might be wondering, "What makes Spiffy special?" And once you start to explore our seven-year history as a company and how we operate, it's easier to see how we stand out from competitors and other franchising industries.
What Draws Franchisees to Spiffy?

We've met with many interested entrepreneurs since unveiling Spiffy Franchising back in July 2020. As a newer franchise opportunity, we have to do some extra leg work to ensure that prospects are well-informed about our work. Chatting with attendees at our Franchise Discovery Day events, as well as the owners who've signed on, has provided us with eye-opening reasons why Spiffy stands out.
For
Rick Crook
- franchise owner in Wilmington, Delaware, our first franchise location to launch - it wasn't as easy as finding Spiffy and committing right away. "I came across Spiffy and, at first, was like, 'I don't know if that's what I'm looking for.'" But after a week, he reached out to our Franchise team and scheduled a meeting with Connor Finnegan, our VP of Strategy. From there, everything started to fall into place.
"With Spiffy, I saw exactly what I saw in myself. They're a company that wants to do good, they want to help people, and they want to create a service that benefits people and that takes the friction out of it," said Crook. "I felt like I could do this kind of work."
On the other hand, our ownership group in
South Carolina
has enjoyed watching Spiffy grow from close up. Paul Clark and his colleagues, Dan Haight, Connie Lanzl, and Steve Lanzl, were involved in our 2018 fundraising round, which offered a transparent view of our growth and expansion plans - from new channels and services to new markets.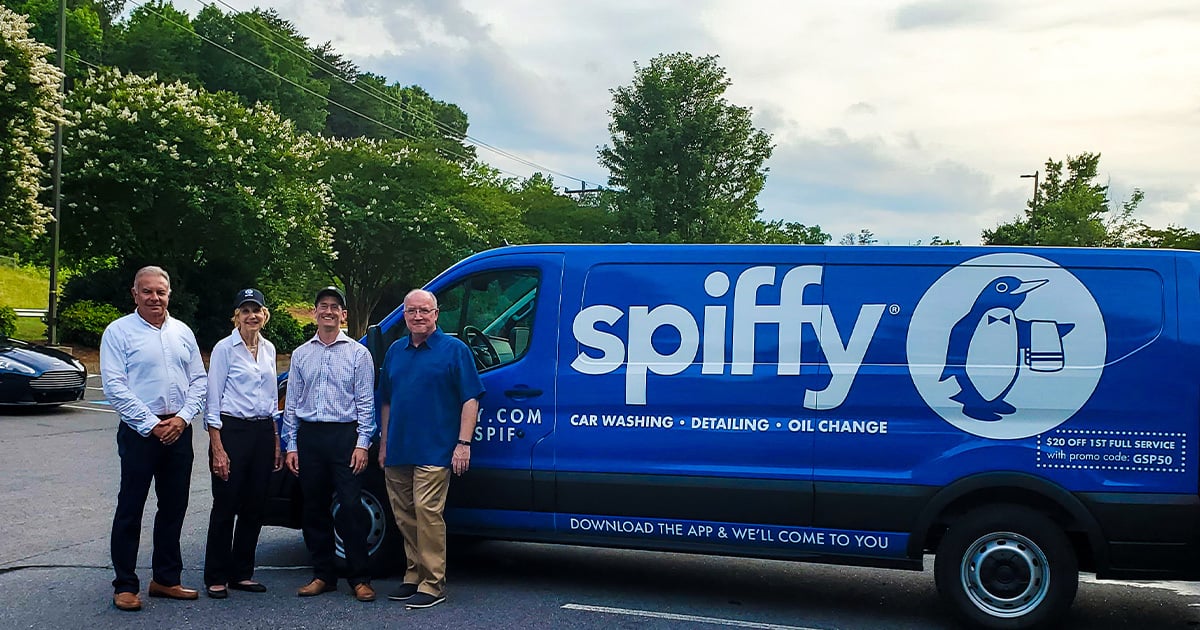 Our South Carolina franchise group, from left to right: Steve Lanzl, Connie Lanzl, Paul Clark, and Dan Haight
"We've been convinced that it works in the places that Spiffy has already demonstrated that it works, and we felt like it ought to work in Greenville and Columbia," said Clark. "It's no question that people want their cars cleaned; they don't want to hang out in a quick lube shop or service dealership to get their car maintained."
All of our franchisees have been able to see themselves running their own Spiffy business. Beyond that, three common reasons have stood out for interested owners to latch onto when learning more about our franchising model.
Proven Track Record

We launched Spiffy as a mobile car wash and detail company back in 2014 with a single van in our home market of Durham, North Carolina. Our co-founders, Scot Wingo and Karl Murphy, had experience in the car wash industry from their Carolina Auto Spa business, but the world of on-demand services was still new. Uber was the king of convenience-oriented experiences, and we drew inspiration from their standard as we looked to
disrupt the car care industry
.
Since then, we've learned countless lessons on the way to 650,000 services and counting. Our branding and van design have evolved to be eye-catching yet professional. The services we provide have grown and expanded with proprietary technology. From oil change and tire replacement services to partnerships with Safelite for glass replacement and HONK for roadside assistance, we've pursued a
complete car care marketplace
to simplify car ownership.
The crucial benefit of our proven track record is that it simplifies the path to secure financing for your investment. Lenders are quicker to finance franchises over new businesses since there's a more precise look at how well the franchisor performs and sets themselves for future growth.
Training from the Pros

All of the lessons we've learned extend into how we train our employees, from technicians to supervisors and General Managers. Every franchise owner is brought through a hands-on, comprehensive training program led by industry professionals. That includes learning how to conduct car wash, detail, and oil change services, in addition to advanced upgrades like our Diamond Plate
ceramic coating
.
Our VP of Operations and Training, Mike Tolzman, has over 20 years of experience in the car wash and oil change industries from his time as Regional Manager for Valvoline and Wash Depot Holdings and as Division Leader for Jiffy Lube. He leads each training session for franchise owners, guiding them through the service menu and each step of the process.
"Since the first week of training down there in Raleigh, both Mike and Brandon [Oxendine, Corporate Trainer, Spiffy Labs] are willing just to open the door and share their secrets to success," said Crook, "If I have any questions, I can pick up the phone and call. There's no such thing as a dumb question."
Consistent Corporate Support

We pride ourselves on providing every franchise owner the tools they need to succeed in their chosen market. To that end, we're eager to provide ongoing
support and resources
from our headquarters in Durham. These include:
A professional marketing team specializing in graphic design, email marketing, PPC advertising, and content marketing.
Coordinated lines of business to fit each market, built on a network of large national fleets and convenience-oriented consumer services.
Multiple pieces of proprietary technology to coordinate your business, from smartphone apps for customers and technicians to the vans themselves.
An in-house customer care team that handles scheduling, customer service, and everything in between.
When you're looking for a worthwhile franchisor, it's essential to find one that is as invested in your business's success as they are the entire company. With our suite of resources, we're confident that we can help each owner grow their home markets on the path to consistent success.
Curious to learn more about our franchising opportunities? Reach out to us directly and
schedule a meeting
to learn more about Spiffy from our franchise team!
Posted in Franchising