We often get asked on social media about our various mobile car wash and detail services. Recently, we had a customer reach out for more information about our ceramic coating service, powered by Simoniz® Diamond Plate®. "Is ceramic coating worth it?" they asked, and they're not alone in wanting to know more about the protection from these coatings.
Despite being around for ten years, the ceramic coating has been relatively unknown outside of professional detailers and hobbyists. As more car owners look to
make their vehicles last
with better forms of paint protection, ceramic coatings have started to break into the mainstream.
Currently, it's our most advanced detail service for customers across the country. But what makes it so valuable for your car's paint?
What is a ceramic coating, and what does it do?
A ceramic coating is a liquid polymer that bonds to a vehicle's paint at a molecular level. By doing so, it adds an additional layer on top of the clear coat for extra paint protection. This works to protect your car's paint from various sources of damage, including dirt and grime, harsh weather conditions, insect acid, UV rays, and acid rain.
In addition to these benefits, a ceramic coating minimizes swirl marks, repels water, and increases paint gloss. On average, ceramic coatings last at least two years, if not longer.
One thing that a ceramic coating can't do is provide paint correction. Instead, we recommend getting a quality
paint restoration service
alongside a ceramic coating. That way you can ensure your clear coat is cleaned and polished before applying the coating's polymer.
Why does my car need a ceramic coating?
Whether you own or lease your car, protecting the quality of its paint plays a significant role in maintaining its trade-in value. The immediate appeal of a ceramic coating is that it doesn't waste time defending your investment. Your car's paint looks as glossy as its first day off the lot. Water, dirt, and grime repel off the exterior with ease.

Most importantly, it acts as a shield from damage that goes unseen until it's too late: UV oxidation, chemical etching, light scratches, and swirl marks.
Could I apply a ceramic coating myself?
Of course, you can. There are
plenty of DIY kits
on the market that range from $50 to $150. But doing it yourself comes with the risk of missing out on comprehensive protection.
Ceramic coatings demand a spotless paint surface. All surface contaminants, such as swirl marks, dirt,
bugs, or tar
, need to be removed. Any additional imperfections require paint correction measures as needed, such as claying and buffing. Once the paint is prepared, it needs to remain untouched. This makes applying the coating anywhere outside of a clean indoor space nearly impossible.
Do I still need to wash or wax my car if it has a ceramic coating?
Regardless of your commute, your car is going to get dirty after enough use. Despite offering extra protection, a ceramic coating doesn't eliminate the need for a car wash or
detail
. While water, dirt, and grime won't cling to your car's paint as much, you'll still want to keep a routine schedule for cleaning or waxing. These services can keep your vehicle's paint looking pristine and shiny while protecting against paint damage caused by UV rays.
However, a ceramic coating does come with the benefit of making cleaning and waxing easier. Rather than getting a wax
every three months or so
, you could choose to wait an extra month or two before booking a service.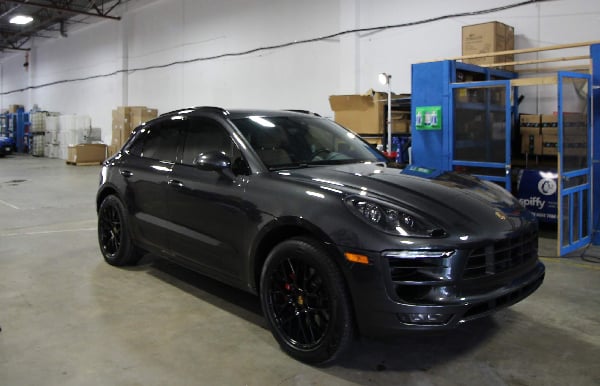 Is it worth getting a ceramic coating?
At face value, the paint protection offered by a ceramic coating is well worth the cost you pay for it. You can expect robust protection against surface contaminants - such as dirt or swirl marks - and clear coat scratches. As we mentioned above, washing a car with a ceramic coating layer is easier, and adding a wax service on top of it can make your vehicle's paint look spectacular. That said, the true value of a ceramic coating service depends on the type of car owner you are.
If you're a college student or recent graduate with a used car for commuting, then getting a ceramic coating is not a pressing need. But if you've bought your car new, or are leasing with the intent to purchase, then it's at least worth considering.
If you're on the fence, then let's do some math.
Our ceramic coating service, which includes an exterior paint restoration, starts at $599. It also comes with a two-year warranty. Assuming that the ceramic coating lasts exactly two years and not a day longer, then the investment cost would come to about 82 cents per day ($599 / 730 days = $0.82/day). Taking good care of your paint can keep the ceramic coating working longer than the warranty period, which lowers your daily investment cost even further.
Ensuring the best for your car's paint quality can work wonders for its trade-in value, as the difference between "Excellent" and "Poor" condition can typically range from hundreds to thousands of dollars in added value.
How do I get a ceramic coating for my car?
If you're looking to protect your clear coat from dirt and scratches, then our Spiffy technicians are eager to get you started with a ceramic coating service! Once you book an appointment via our app or website, we'll reach out as soon as possible to confirm the date and time. When it's your service date, we'll bring your vehicle to one of our Spiffy Detail Centers. We conduct every ceramic coating indoors to ensure complete cleanliness and successful application before bringing your vehicle back.
Are you interested in booking your ceramic coating service? There's no better time than the present to offer your car the ultimate paint protection. Take
$20 off
your first service with Spiffy and let us know what you think!