Car ownership can be a lot of fun, but it also comes with expensive hurdles. Unless you plan on owning a vehicle until it dies, your current car's resale value can make or break the transition to your next. By trading in a poorly maintained lease, you're subject to paying the difference between your appraised value and the total buyout amount - all before even getting to a new vehicle!
We've talked a lot about the
benefits of detailing
for your car's paint and the
different

levels of protection
available. But what if your paint has been damaged beyond a typical repair? For that, we turn to car paint restoration: an advanced service unique to your vehicle that addresses the damage and sets it up for long-lasting protection.
How Does Exterior Paint Restoration Work?

Restoring a car's paint varies based on the damage. A driver without a garage in New York may have more issues with
tree sap
, while one in Florida will
struggle with UV damage
. Generally, there is a limit of damage that needs to be fixed with complete repainting, followed by a paint restoration as a final polish. It's known as oxidized paint and almost looks like a sunburn on your car.
It would be best if you kept your car's paint in good condition to avoid complete repainting. For example, this car would cost thousands to repaint and reapply clear coat: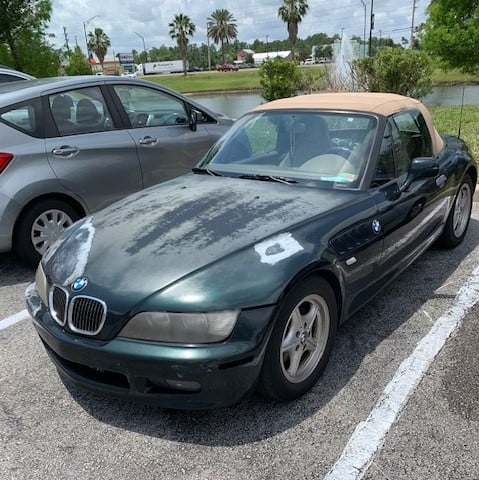 For any car less affected by oxidation than the one above, an exterior restoration starts by clearing away the imperfections that have piled up on your paint. A clay bar leads through the dust, dirt, sap, and other rough contaminants after thorough washing.
Once the entire exterior is complete, the remaining clear coat is bare of any dead paint but still a bit rough around the edges. Any clear coat that has been scratched or worn out in small areas cannot be replaced and must be polished to a consistent finish instead. First comes the process known as "cutting," or applying a rougher compound with a random orbital buffer to even out the clear coat. Next comes the actual polish, which uses an ultra-refined finishing polish to make the paint gloss pop.
What If I Get Into an Accident?



Accidents come with a lot of baggage, and your car's paint isn't going to be your immediate concern. In some cases, the damage is minimal enough to be buffed out with a separate service, such as paintless dent repair. More extensive damage requires part replacements, which will need to be matched to your car's color and look as natural as its first day off the lot.
After an exhausting list of steps, an exterior restoration may be necessary to ensure that the paint on the new panels is consistent with the rest of your car. By that point, you will have an idea of whether or not it's genuinely needed based on communication with your collision repair provider.
When Do I Need Paint Restoration?
The most common damage that an exterior restoration can fix is paint haze, surface scratches, and water spots.
If you've noticed any of these begin to form, then it may take a well-trained eye to determine whether or not you need a restoration or just an exterior detail. Paint haze can often be buffed out with a good wax, but scratches and water spots are high-priority issues to address sooner rather than later. The restoration process is typically the same for these causes; the car must be cleaned, cut, and polished.
Suppose you're looking to protect your car's paint for years to come. In that case, an exterior restoration is also handy for ensuring the clear coat is smooth and polished before a more advanced service, such as our Diamond Plate ceramic coating.
What is a Ceramic Coating?



A somewhat long-time player in the paint protection market is the
ceramic coating
, which bonds to a vehicle's paint down to a molecular level. Once applied, the coating acts as an extra layer of clear coat. But to get to a point where your paint is ready for a ceramic coating, it needs to be polished with an exterior restoration for a perfect finish.
The final result is a paint coating that you can feel comfortable with parking outside more often. While it doesn't eliminate the need for routine wash and wax services, the extra protection does offer a bit more leeway for you to enjoy.
Experience and Training Matter for Your Car



It only takes a simple Google search to know that there are plenty of paint restoration options available. Like everything with your vehicle, it's crucial that you find a trustworthy product or service rather than just a cheap one.
Our professionally trained W2 technicians are eager to help get your car's paint restored and shiny like the first day you got it. You can conveniently book your service via our app or website, with no stress or strings attached!
Are you interested in an exterior restoration or ceramic coating service? Take
$20 off
your first Spiffy service, just for giving us a try!