As we look ahead through 2021 and beyond, what drives our team is the belief that we can
disrupt the car care industry
and deliver better customer experiences throughout. Since announcing our
franchise model
, we've received countless requests from passionate entrepreneurs across the US, and even globally, to learn more. It's impossible to ignore the boost of validation that we get from talking with potential owners and the invaluable insights we've gained along the way.
Based on the interest over the last few months, a lot of what we're seeing is a continued push towards on-demand services. The pandemic has
substantially accelerated consumer trends
, resulting in a greater interest in mobile service providers that prioritize customer convenience. This shift is wide-ranging enough that automotive services were named one of the
hottest franchise categories
by Entrepreneur Magazine, which listed Spiffy among others, including Jiffy Lube, Novus Glass, and Valvoline.
Our CEO, Scot Wingo, also spoke with Britta Lokting of Entrepreneur about launching a franchise model during a pandemic. He made a note to mention that the groundwork existed for just over a year before an official announcement. As a result, "we collected 300 to 400 [contacts]" and after the formal announcement, "we sent everybody a note letting them know we were entering the franchise business." Interest has notably spiked during COVID, which he attributes to people thinking about switching professions or industry during a time of economic uncertainty.
Thus far, the most informative part of our franchise efforts has been our recurring Discovery Days with interested owners. These events are hosted on-site at our headquarters in Durham, North Carolina, with Zoom participation for people that are not traveling. We do hands-on demonstrations and discuss logistical knowledge for operating a mobile car care business. Even despite a pandemic, we've been thrilled with the socially distant turnout and look forward to our next gathering!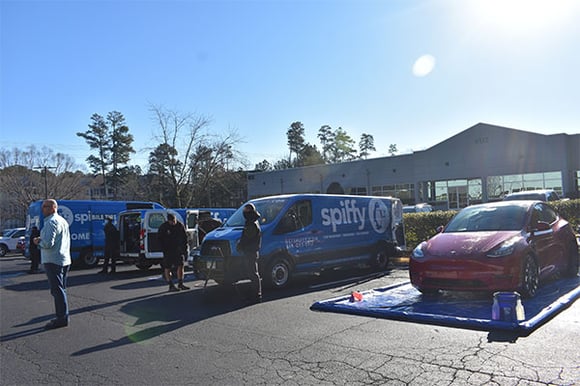 Are you interested in taking a closer look at our
franchising opportunities
? Learn more about our franchise model and sign up for our next Discovery Day event!
Posted in Franchising