With winter comes snow, ice, and frigid temperatures, which means it's time to start thinking about how to take care of your car. Proper car care is essential to keeping you safe on the road during the winter months, so we put together a list of our top tips for winter car care. From checking your tires to protecting your paint job, a little effort now will go a long way in keeping you safe and sound all season long. Here are a few tips from the experts at Spiffy on how to keep your car in tip-top shape all winter long.
No Winter Worries
Check Your Tires
Winter weather can take a toll on your
tires
, so it's essential to ensure they are in good condition before hitting the road. One way to check your tread depth is with the
"Abes Head Method.
" Place a penny in the tread groove with Lincoln's head facing you. If his head is completely covered, your tires have enough tread for winter driving. However, if you can see any of Lincoln's head, it's time to get new tires.
In addition, to tread depth, it's also important to check your tire pressure regularly during the winter months. Colder temperatures can cause the air in your tires to expand, resulting in less contact with the ground and reduced traction. You can help ensure a safe and enjoyable winter driving experience by keeping an eye on your tires. Get your tires changed at your convenience, not the tire shop's by making it mobile! Booking your Spiffy Tires service at home or work is as easy as using our app.
Inspect Your Brakes

Brake wear increases significantly in the winter, leading to damage and cracks forming. Depending on your driving habits and the type of brakes you have, brakes usually need to be replaced every 30,000-60,000 miles, so it's imperative to inspect brake pads, rotors, and drums regularly. If you have ¼ inch of brake pad remaining, you're generally in the clear.
If you notice any squealing, squeaking, or grinding noises while driving your car this winter, be sure to have your brakes checked out by a professional immediately. With Spiffy's mobile brake services, you can replace your brakes from the comfort of your home or office.
Restore Your Headlights
Although we may not give them much thought, our car headlights play a vital role in our
safety
when driving, especially at night or in bad weather. Over time, however, headlights can become yellowed and oxidized, reducing their brightness and making it more difficult to see at night. This is especially true in winter when shorter days and longer periods of darkness can make visibility a real challenge.
Headlight Restoration removes the haze and yellowing and restores your headlights to their original clarity, improving your safety on the road and making your car look new again. So before heading out on your next winter adventure,
schedule
a headlight restoration at Spiffy with clarity guaranteed for six months.
Replace Old Wipers
When the rains come, and the snow falls, you need to be confident that your windshield wipers will do their job. Old wipers can leave streaks and smears obstructing your vision, making it difficult to see in inclement weather. In addition, they may not clear the water and snow from your windshield as effectively as new wipers, putting you at risk of an accident. That's why replacing your old wipers is vital before winter sets in. With new wipers and Spiffy's Rain Repellent upgrade, you can be confident that you'll be able to see clearly in even the heaviest downpours. So don't wait until it's too late - make sure to replace your old wipers before winter arrives.
Protect Your Paint & Body Panels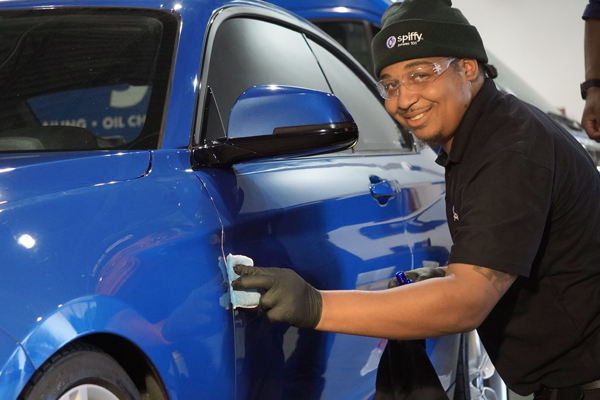 Your car is an investment, and you want to keep it looking its best. That's why Spiffy offers
ceramic coating
and
hand-polished wax
services to protect your paint and body panels. Spiffy's Hand Polished Wax provides an extra layer of
protection
against snow, ice, and road salt damage and for the ultimate in winter protection, take advantage of Spiffy's ceramic coating.
Our technicians will remove contaminants and smooth out light scratches & swirl marks on your vehicle's surface before applying Diamond Plate nano-ceramic polymer coating to form a thicker layer of superior protection against the elements for 2+ years, guaranteed. These steps can help keep your car looking good for years to come.
Winter Is Coming

Spiffy has all the services you need to protect your vehicle from the elements, from tires to waxing. We'll help you prepare your car for winter, so you can focus on enjoying the holiday season. And what could be more convenient than having everything done at your convenience?
So don't wait any longer; get your car winter ready with Spiffy today! And, if you want to keep some close safe this season, our gift cards are the perfect holiday gift.