Another spring season can bring a lot with it. Beyond the warmer temperatures and frequent rain (depending on where you live), there's a consistent drive to clear away the messes that can pile up throughout the winter months. For some people, myself included, that includes spring cleaning your car.
If you're looking to refresh your vehicle from the inside out with some deep cleaning, then here are six different ways to make it happen!
Hand-Wash and Wax the Exterior
There's no better way to make your car's exterior shine than washing it by hand. Automatic car washes can be abrasive and even damaging to your car's paint, but washing by hand is gentler and allows you to get into the nooks and crannies missed by the bristles. Since pollen is out in full force, washing by hand helps remove any attached to your car and minimize its long-term damage to your paint.
If you're looking to wax your car as well, it's essential to dry the exterior with a microfiber cloth thoroughly. These towels are made to trap any remaining dirt or dust, so the paint's surface is as clean as possible before applying the carnauba wax. Random orbital polishers are surprisingly crucial tools, as they spread the wax consistently across the paint and minimize the potential for any noticeable smears.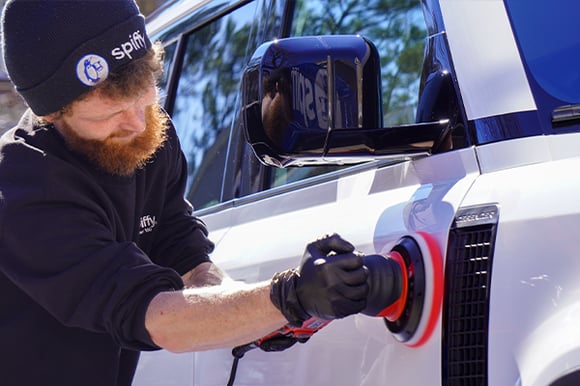 The best part about a quality hand-wash and wax is how much it can help protect your car's paint in the long term. Sure, it's another routine chore, but it keeps your car looking like you just bought it!
Address the Dusty and Dirty Interiors
Once you've made your car's exterior shine, it's time to bring your attention to the interior. Our technicians are trained to start with the driver's seat since it's the space where you spend most of your time.
Take out your floor mats and vacuum the carpeting and upholstery, being sure to find any pesky crumbs that have gathered under the seats. If you have leather seats, be sure to use leather cleaning products to avoid damaging your precious seat material. Don't forget to wipe down your dashboard and center console, taking care not to damage any electronics your vehicle may have equipped.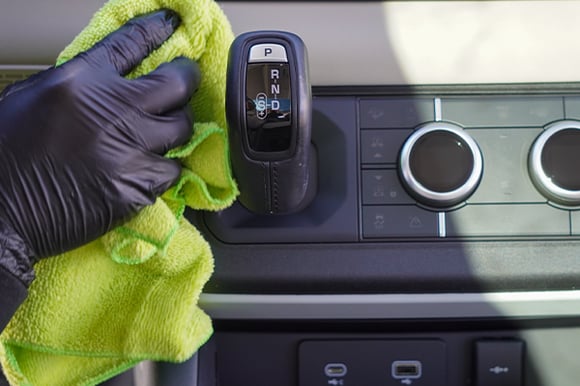 From there, continue around your car counter-clockwise. Give the backseats some TLC (especially any parents out there) before the homestretch in the front passenger seat. In case you missed it earlier, now is a great time to tackle the cup holders. You'd be surprised how easy it can be to skip over them, yet it's always the first thing that sticks out in an otherwise clean car.
Tidy Up and Organize
Before we turn our attention to some more advanced spring cleaning tips, there's no better time to organize any items in your car. Maybe you're like me, and your trunk has random articles of clothing, a pair of old sneakers, some tools, and a bundle of scrap wood. Maybe that's too specific, and you have a bunch of odds and ends that have been ignored for months (or years, no judgment here).
Regardless of what litters your car, clean out all the junk and determine the best place for it - either in a compartment or in your house. Throw out the trash, restock items like paper towels or tissues, maybe grab an air freshener, and make sure you have everything that should be in your car—things like an emergency kit, which can be vital if you're in a pinch.
Oh, and check that spare tire. You might not have used it yet, but it's good to know that it actually can be relied on when the time comes.
Replace Your Old Cabin Air Filter
If you battle pollen-related allergies, then it's important to know about your car's cabin air filter. This filter traps pollutants and debris that enter through the ventilation system, but pollen can still recirculate through your vehicle when it's captured by it. That's why it's important to replace the cabin air filter every 12,000 to 15,000 miles, or each year, whichever comes first.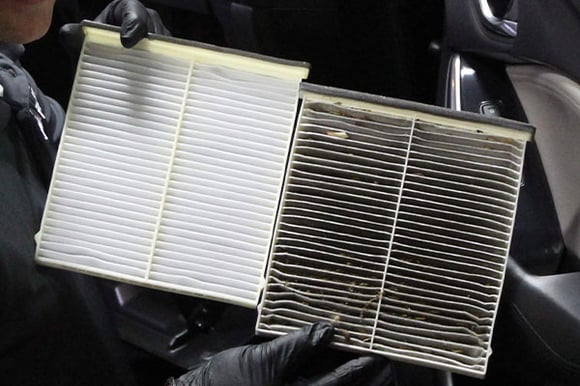 Not only can clean air filters keep trapped pollen from aggravating your allergies, but they also have a positive effect on your car. If you ignore a dirty filter for too long, you run the risk of clogging a heater core or air conditioner, leading to maintenance issues if left unchecked.
Depending on your car's model, you may not know where the cabin air filter is or how to access it. Some vehicles, such as most modern Mazdas, are built with easy access to replace the cabin air filter. Others, such as certain Ford models, require more precise effort from professionals to replace the filter.
Check Tires and Wiper Blades
Now that you're back outside the car take a look at your car's tires. If you still have winter tires equipped, then be sure to swap them out for all-season tires as soon as possible. From there, a soapy sponge can work wonders for any grime that's gathered on the hubcaps. Once your tires have been cleaned, be sure to check the tire pressure and refill to between 30 and 35 PSI, if necessary.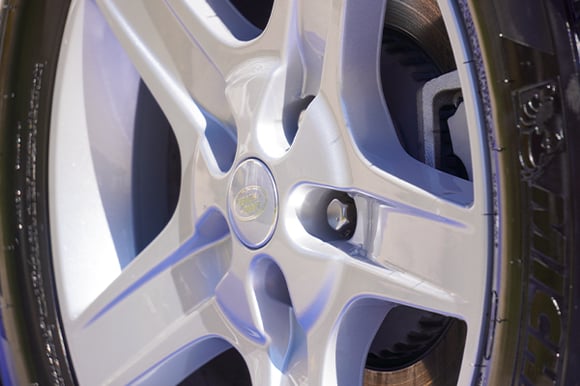 Next, swing around the front of your car and inspect the windshield wipers. Do they have any dirt or grime accumulated? If so, give them a thorough wipe down to prevent smudging or streaking when they're in use. Be sure to test them after cleaning to make sure they are working correctly. Wipers can become less effective over time, so be mindful of their quality and replace them when appropriate.
Clear the Mess Under the Hood
Depending on how old your car is, you may have some areas to check on under the hood. Unless you keep your car in a garage all day, you'll likely have some leaves and other debris accumulated from driving and parking outside for extended periods. Toss that out and wipe down any dirty edges.
While you're under the hood, do yourself a favor and refill your windshield wiper fluid. It's almost too easy to forget about until none comes out when you want to use it. You'll thank yourself later.
Before we wrap up this area, ask yourself, "When was the last time I got an oil change?" If you don't have a sticker or can't remember your last service, you can always check the dipstick. To avoid any messes, grab a rag and pull out the dipstick over it. You're looking for clean oil that isn't too low. If you notice that the oil seems low or dirty enough to look like sludge, then it's time for a change.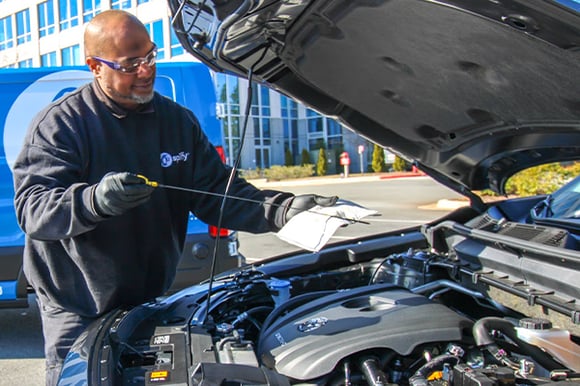 Sunnier days and warmer temperatures are here to stay, so it's a great time to do some spring cleaning for your car! If you're short on time or just don't want to clean your car this weekend, you can always reach out to our team at Spiffy to handle it for you. Our technicians are expertly trained to make your car feel new again, and there's no better season to see the Spiffy difference for yourself.
Get $20 off a wax, detail, deep cleaned interior, or oil change when you book your first service today!
Posted in Car Care