It's that time of year again. Winter is behind us and another
spring
season is well on its way. With warmer temperatures and nature starting to bloom, it also means that the dreaded pollen is returning to trigger seasonal allergies across the country.
Whether you deal with springtime allergies or not, there are a number of other effects that pollen can have that might not cross your mind, such as the impact on your car.
How Does Pollen Affect Your Car?



Beyond being notorious for getting on your clothing, the pollen that sticks to your car is commonly from ragweed or trees. These sources have spiny, microscopic hooks to cling to surfaces and promote pollination. While it's good for Mother Nature, it's not so good for your car. An understated aspect of pollen is the acidity that can stain and corrode your car's clear coat of paint, especially when activated by water.
There's no denying how easy it is to ignore the pollen and rely on spring rains to keep your car clean. But be warned: doing so means that you're causing more lasting damage and potentially lowering your resale value.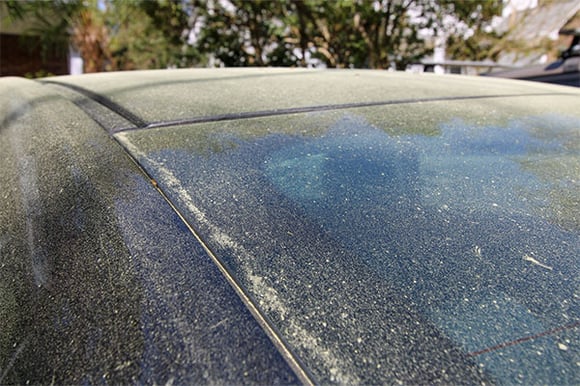 Convenient Solutions for Long Term Protection
The easiest option for dealing with pollen buildup on your vehicle is a quality hand wash, not just a rinse with a hose or spring rain. By using automotive soap with a cleaning mitt, you can ensure that every inch of your car is cleaned before rinsing and hand drying with a microfiber towel. That final part is important: microfiber towels are crucial for car paint because the open spaces in the cloth catches dust, dirt, and pollen.
If you're interested in adding an additional layer to your clear coat for protection, then applying car wax after your car is dry can help defend from pollen that will inevitably return to cover it again. The best solution available is our
Ceramic Coating
, powered by Simoniz® Diamond Plate®. This service starts with a paint restoration and deep cleaning, followed by the application of an additional layer on top of your clear coat.
Don't Ignore Your Cabin!
Of course, pollen doesn't just impact your car's exterior; it can be invasive at times and fight to get inside of your car's cabin. Opting for interior cleaning can address any pollen that manages to get on your seats or dashboard, but the biggest area to consider is
replacing your cabin air filter
. This part of your car's venting system captures pollen, dust, and other pollutants from getting into your cabin, but can become clogged if not replaced on a routine basis.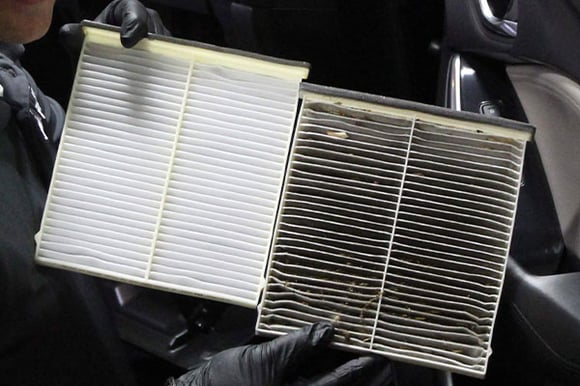 It's recommended to change your cabin air filter after 12 months or 12,000 miles, but installation varies by model and can often be complicated. By having your cabin air filter changed, you and your passengers can enjoy fresher air with every drive!
If you're looking to fight the pollen on your car, then our technicians at Spiffy are eager to assist. Book your first appointment today and
get $20 off
for giving us a try!