No Brakes On Preventative Maintenance
Fleets rely on
brake services
to keep their vehicles in top condition and running smoothly. Fleets can improve productivity, maintenance, and customer service by getting regular brake services. Poor brake performance can cause multiple problems for fleets, including decreased fuel efficiency, longer stopping distances, and wear and tear on the vehicle.
Spiffy offers mobile brake services designed to increase uptime and drive business ROI while ensuring safety and keeping vehicles in top condition. Our
brake pads
are made of high-quality materials that last longer and provide better braking performance than cheaper alternatives, while our brake rotors are precision-machined to ensure a perfect fit and accurate braking every time. Spiffy's team of technicians are trained to the Spiffy standard, a minimum of 100+ hours, and are eager to provide this essential service to our fleet customers.
Pound Of Cure
Fleet managers' top priority is keeping their drivers and customers safe, and with so many vehicles on the road, it can be challenging to keep track of
maintenance
and repairs. That's where Spiffy comes in; we help fleet managers stay on top of preventative maintenance that removes liability, and we offer comprehensive brake maintenance and repair services to help keep your fleet on the road safely and reliably.
Brake pads typically last around 40,000 miles, but the distance varies based on the driving habits of your employees and customers. Brake rotors last a while longer, up to 65,000 miles in some cases. However, it's crucial to regularly inspect your rotors, even if you're having your fleet brake pads replaced.
We recommend that our customers include preventative maintenance checks for their brake rotors as part of their regular maintenance schedule. For our fleet customers, we include this in our pre-appointment inspections to help keep their vehicles running smoothly and prevent costly repairs down the road.
Although, at this time, Spiffy does not repair air brakes for our
medium and heavy duty fleet
customers, we perform a seven step brake test as part of L1 DOT inspections. Knowing is half the battle, and we've found that this helps to extend the lifespan of brake rotors and saves our fleet customers money in the long run.
Prevention is always better than cure, and identifying problems before they become serious saves time and money in the long run. Our highly trained technicians will inspect your fleet's brakes for potential issues and make the necessary repairs.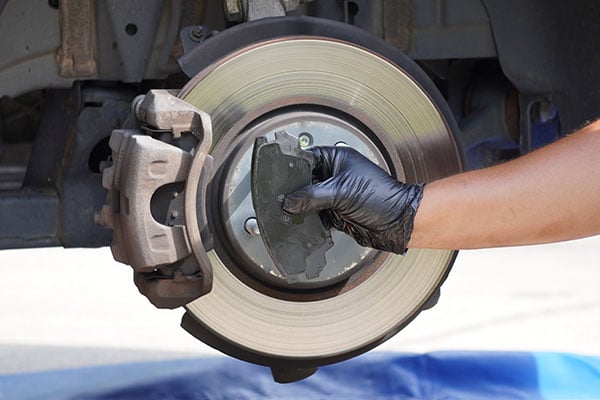 Keep Rolling
By investing in mobile brake services, fleet managers can help prevent potential problems before they occur, increasing uptime and, ultimately, fleet ROI thanks to
after hours service options
. Spiffy's mobile brake services not only help keep fleet vehicles on the road but also help improve employee and customer satisfaction. In addition, fleet managers demonstrate their commitment to safety and quality metrics. Mobile brake services are a win-win for fleet managers, drivers, and customers.
In addition to our mobile brake services, we offer various other
fleet cleaning, maintenance, and repair services
. So if you're looking for a one-vendor solution for preventative maintenance and other fleet maintenance and repair needs, Spiffy is here for you.
We understand that keeping your
fleet
running smoothly is essential for your business, so we are standing by to share more about our mobile brake services and how they can help you achieve your fleet metrics. Click below to learn more today.
Posted in News, Business, Lifestyle, Franchising