What would you do for a fleet maintenance strategy that doesn't revolve around allocating time for your employees to shuttle vehicles to an off-site mechanic? How different would your day-to-day operations be if a reliable maintenance solution came straight to you?
The
Fleet Management as a Service (FMaaS)
model simplifies fleet management by eliminating the need for downtime with a solution tailored to fit your needs. This model offers a mobile or fixed site, one-vendor solution for full lifecycle maintenance management, focused on five fundamental tenets:
mobile
,
convenience
,
professional
,
tech-enabled
, and
green
.
Mobile
Equips Spiffy vans with water, electricity, and tools required to serve your fleet
Eliminates the need for fleet managers to provide service resources
Creates a familiar routine for every appointment
Convenience
Serves fleets of all sizes, from rental car fleets and automotive auctions to midsize fleets and car-sharing services
Offers a custom-built web app to schedule, track, rate and pay for services
Manages branches, areas, or regions with pre-delivery inspections, reconditioning (wash/detail), preventative maintenance (oil change, tire rotation), and de-fleeting (de-fueling, label removal), as well as a comprehensive set of additional services.
Professional
Trained, W-2 technicians with 100+ hours of training and an intense focus on specialized equipment and products
Fixed schedules and hours set by supervisors with consistent quality in mind
Insured and bonded services to cover any accidents that could occur during a service
Tech-Enabled
Real-time maintenance tracking and appointment scheduling in custom-built, zero-cost app
Immediate, digital billing with virtual records of every appointment for future reference
Technician-specific smartphone app for pre-service inspection checklists, live service updates, and upgrade recommendations
Green
Protective mats to trap and reclaim used water
Suction pumps to return reclaimed water to the van for recycling
Over 8 million gallons of water to saved to date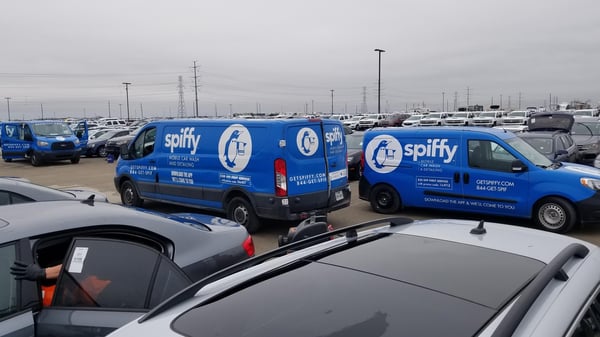 The Fleet Management as a Service model consists of three core pieces: in-fleeting, preventative maintenance, and de-fleeting.
In-Fleeting
Whenever you're looking to bring a new vehicle into your growing fleet, it's essential to ensure that it's not only up to the standards of you and your customers. Every car has a process for
proper in-fleeting
, making it imperative to have a tailored solution to fit your needs as a Branch Manager, Area Manager, or Regional Fleet Manager.
When you rely on Spiffy and our Fleet Management as a Service model, you can expect a three-step process for in-fleeting, designed for your needs.
Preventative Maintenance
Regardless of your fleet size, finding time to service each model is one of the more troublesome tasks as a fleet manager. The planning efforts and
downtime required
to shuttle your fleet to and from a car wash can really set your business back.
By addressing dirt and debris, the quality of your fleet can speak for itself. It's easier for customers to be more confident in a clean vehicle, which can help to increase the demand for specific models. More importantly, attacking any substances on the exterior of your fleet vehicles can extend the quality of their clear coat and keep them on the roads for longer.
Not only does ignoring the cleanliness of your vehicles contribute to the loss of their clear coats, but those routine trips to a traditional express car wash do too. The revolving washers and brushes are often already dirty and too aggressive for the clear coat of paint, and there is no guarantee that they use clean microfiber drying towels. With preventative Spiffy upgrades, such as our
Headlight Restoration
or
Decontaminator
services, your fleet can stand out from the competition.
De-Fleeting
As a fleet manager, you have to retire models in your inventory sooner or later. When you're ready to prepare one of your fleet vehicles for auction or resale, it's essential to keep a checklist in mind for the
de-fleeting process
.
Whether the car needs reconditioning, de-fueling, adhesive removal, or listing for auction, our FMaaS Solution will equip you with your own multi-step de-fleeting process.
Choosing a preventative maintenance solution that works to maximize your bottom line is critical. With Fleet Management as a Service, Spiffy is revolutionizing how fleet managers at every level strategize and address the maintenance needs of their vehicles. By settling on a model that prioritizes your needs as a manager, you can focus on maximizing the time and dollar utilization of your fleet, regardless of how many vehicles are in your inventory.
Posted in Fleet