One of the questions we hear most often is "What makes a Spiffy Car Wash worth $50?". While you can head over to a nearby car wash and get a car wash for $20, several factors separate a Spiffy mobile car wash from those automatic services.
The Service
When you go to a traditional car wash, you're putting your vehicle's paint at risk for buffs and scratches. Every Spiffy service starts with a gentle car wash and towel dry, both performed by hand to keep your paint's clear coat of paint pristine. Surfaces from front to back are wiped down, including windows, before conducting a complete vacuum. This service leaves your car shiny from the top down; making it an excellent option for drivers looking to give their car a refresh.
The Convenience
Before one of our technicians cleans your car, you can conveniently book an appointment during the day and time that works best for your schedule. Whether you choose to book on our website or download our
iOS or Android app
, you can set your service location for at home or work. Once your appointment is scheduled, then it's in the hands of our experienced Spiffy technicians.
The Technicians
With over 100 hours of training, these
W-2 employees
are well-versed in the knowledge required to complete your appointment. They will arrive at your home or workplace with an easy-to-spot blue Spiffy van, outfitted with all the water, power, and equipment needed for 5-star service. All they need is your keys.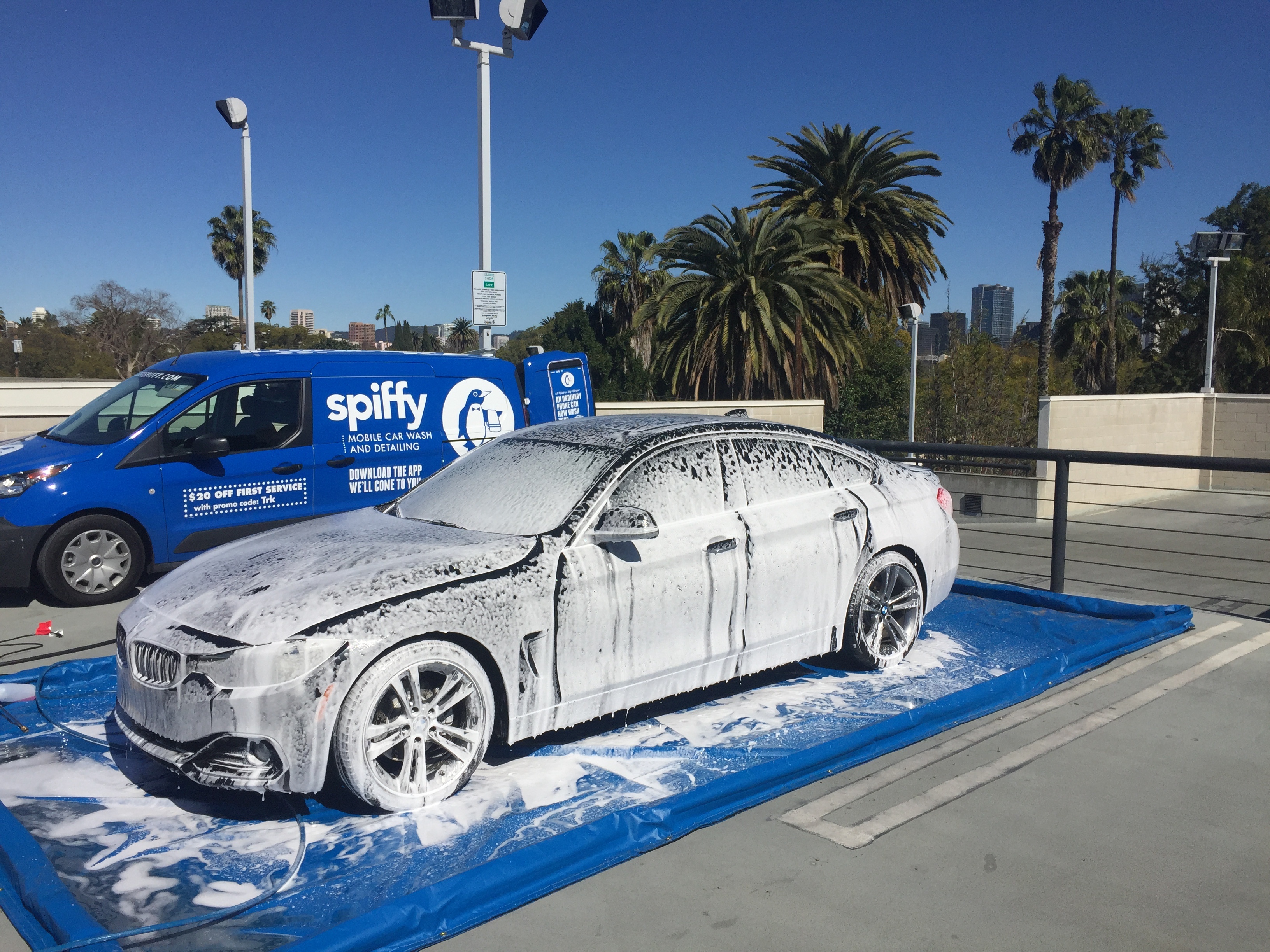 The Green Approach
Of course, we wouldn't be where we are today without responsibility to our local environments. We're proud to use less than 50% of the water needed for a traditional car wash in tandem with our water reclamation system; saving over 8 million gallons to date! Every cleaning product we use is eco-friendly and EPA-approved, which ensures that we're leaving no harmful footprints behind.
Whether you're looking for an entry-level cleaning or a complete exterior detail, you can expect a convenient, trusted, and professional service from
Spiffy
! If you're looking for a quick cleaning or a dedicated car care solution, we're ready to turn your driveway or parking spot into a mobile car wash today.
Book your appointment at home or work and experience the convenience of car care that comes to you!