Your car is not just a means of transportation; it's an extension of your personality and style. So why settle for a mediocre automatic car wash when you can treat your beloved vehicle to a professional hand wash? In this blog, we will delve into the art of professional car hand washing and explore why it is superior to automatic washes. From the attention to detail and personalized care to the essential tips for maintaining your car's shine after a hand wash, we will cover it all. Discover the difference that a professional hand wash can make and give your car the pampering it deserves.
Why Choose a Professional Car Hand Wash or Detail Over Automatic Wash?
Looking for a superior car wash experience? Choose a professional hand wash over an automatic wash. Get personalized care and attention to detail that automatic washes can't provide. Hand washing reaches areas missed by machines, using gentle techniques and higher quality products.
The Art of Professional Car Hand Washing
Experience the difference of a professional car hand wash. With a focus on attention to detail, professional car washers use their knowledge and experience to safely clean your vehicle without causing any damage. Hand washing allows for a thorough cleaning, reaching even the hard-to-reach areas that automated car washes may miss. This ensures that stubborn dirt, grime, and contaminants are removed, preserving the paintwork and finish of your car. Using high-quality cleaning products and techniques, our hand washing process enhances the overall appearance of your car, leaving it looking its best.
Need a Deeper Clean? Think About a Detail
If your vehicle has been neglected for an extended period, one of our detailing packages may be the right move for you. Regular basic washes are important for removing road and environmental contaminants from your vehicle to keep it looking its best, but sometimes when schedules become too busy with work and weekend activities we can forget to treat our car to a bath. At Spiffy, we believe even the most neglected vehicles can be returned to their former glory and sometimes it may take a little extra TLC to get there. Your vehicle should be an oasis during your family road trips or daily commutes. If you are going to be stuck in traffic you might as well make the experience as pleasant as possible, and a clean car is a great start to getting you there. Not only will our detail packages revive your car's appearance, but we bet they will also bring you some peace of mind knowing you are riding around in the cleanest car on the interstate.
While we set the standard of hitting the nooks and crannies with our regular wash packages, our detailing packages take it a step above. With everything from our top Spiffy & Shine wash package included, Our Awesome detail package adds on an exterior wax to protect your paint for longer and provide a a showroom quality shine. On the inside our techs will not just wipe down and vacuum your surfaces but will also shampoo all carpets and cloth surfaces and condition leather to remove dirt that has become deeply ingrained, as well as remove odor causing contaminants. If your car takes more than just an interior punishing and is covered in light scratches our Totally Awesome package is just what the doctor ordered. On top of what is offered in the Awesome package, you also get an exterior treatment to remove and smooth light scratches in your clear coat that may have been caused by a plethora of outside forces, like an automatic car wash with its abrasive brushes. this service will provide an almost mirror like finish that would make the Evil Queen's Magic Mirror blush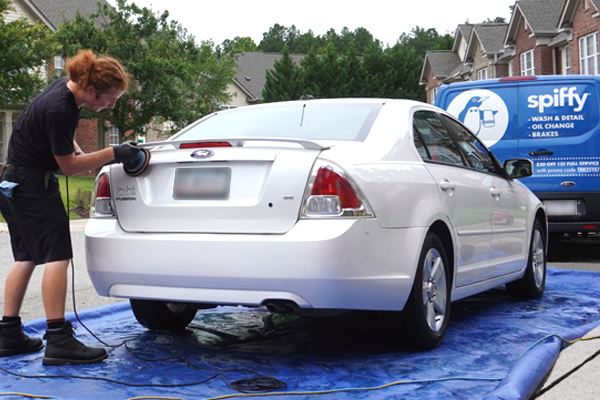 How Often Should You Hand Wash Your Car?
Regular car hand washing is crucial for maintaining its appearance. At Spiffy we generally recommend washing at least once a month, our Spiffy Car Wash and Spiffy & Shine services are perfect for those looking to keep their cars looking their best. While these basic wash services provide the necessary protection for your everyday commute, we also recommend our Awesome and Totally Awesome detailing packages to take your car to the next level. These packages are our most in-depth offerings and include paint correction, and clear coat sealing as well as interior shampooing, or leather conditioning. If your car has been neglected for months at a time, these services are what you need to get your car back to a showroom shine. We believe that you should treat your car to this spa treatment about once a year or as necessary.
Essential Tips for Maintaining Your Car's Shine After Hand Washing
After hand washing your car, following these essential tips is important to maintain its beauty. Start by using high-quality car cleaning products to protect the paint and finish. Regularly waxing the car will help maintain its shine and protect it from environmental damage. Don't forget to clean the interior regularly to prevent dirt and stains from building up. Pay attention to the details, such as cleaning the wheels and tires, and vacuuming the carpets and upholstery. For a deep clean and extra protection, consider using a professional car detailing service.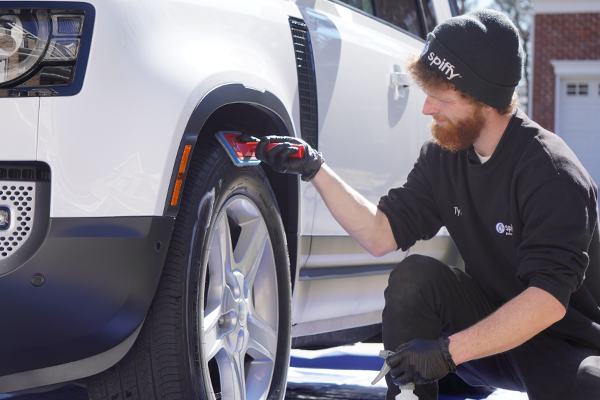 What Makes a Professional Hand Wash Stand Out?
Professional hand wash services set themselves apart by using top-notch products and equipment. Their trained technicians meticulously clean every inch of your car, leaving no spot untouched. Additionally, they offer extra services like interior vacuuming and tire shining, ensuring a truly comprehensive and personalized cleaning experience.
At Spiffy, we are committed to the environment and try to offer the most eco-friendly wash options possible. with our Spiffy Green commitment, we strive to reduce our water usage as well as recycle wastewater at the end of every wash. Our process uses only 5 gallons on average for every service we complete. In comparison, DIY and automatic washes use anywhere between 35 and 120 gallons of water depending on the vehicle and type of wash with most at-home washes using around 100 gallons. This translates to water savings between 85.8% and 95.8% less water used during a Spiffy hand wash service.
Attention to Detail
Our professional wash techs pay close attention to every nook and cranny of your car, ensuring a thorough cleaning. They take extra care when cleaning delicate areas like the interior, windows, and mirrors. No spot or stain is too small to be treated and removed, leaving your car looking spotless. The professionals use specialized tools and techniques to ensure a meticulous and precise cleaning process. And the attention to detail extends to the final touches, with professionals adding a finishing touch like waxing or polishing for a showroom-worthy shine.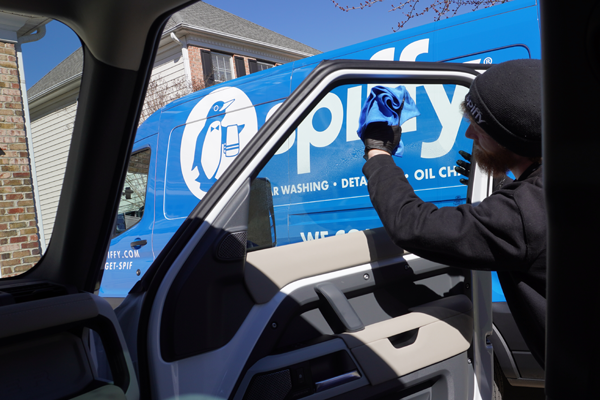 Personalized Care
When it comes to professional car hand wash services, personalized care is a top priority. Trained technicians offer individual attention to ensure that every nook and cranny of your vehicle is thoroughly cleaned. This personalized care extends beyond just the cleaning process - high-quality products and techniques are used to achieve a superior finish. Your car receives special treatment, including hand drying, detailing, and polishing to give it a showroom-worthy look. With this level of personalized care, you can trust that your car will be treated with the utmost respect and attention to detail.
Isn't your car deserving of a professional hand wash? Give it the care it deserves with a Spiffy hand wash that will help your car maintain its value and appearance. Enjoy a thorough cleaning, including those hard-to-reach areas, while reducing the risk of scratches and swirl marks. Treat your car to a pristine finish with our professional hand washes. Book your spiffy service today!
Posted in Car Care