After a thrilling summer road trip filled with scenic drives, beachside relaxation, and unforgettable adventures, it's time to shift gears and focus on giving your trusty vehicle the care it deserves. The combination of sun, sand, and miles of open road can take a toll on your car's appearance and performance. In this blog, we'll guide you through essential post-road trip maintenance tasks to ensure your vehicle stays in top shape. We've got you covered, from restoring that showroom shine with a thorough wash and detail to preserving performance by maintaining your vehicle's undercarriage integrity. So, let's dive in and discover how to keep your wheels running smoothly long after the summer memories fade away.
Never Fade Away: Bringing Back the Showroom Shine With a Post-Summer Road Trip Wash and Detail
Whether you drive a compact car, a luxury sedan, or a rugged SUV, maintaining your vehicle's appearance is crucial. A post-summer road trip
wash and detail
enhances the aesthetics and protects your car's paint and finish. Our on-demand car care offers a convenient solution. We come to you with our professional technicians that utilize
high-quality products
and
eco-friendly practices
to deliver a thorough and long-lasting clean.
Now, let's talk about the mess that comes with road trips, especially if you're a
parent
. Endless snacks, spilled drinks, and sticky fingers can turn your car's interior into a disaster zone. Cleaning up after such adventures can be a monumental task, but with us, customers can effortlessly maintain the beauty and value of their vehicles without compromising on their busy schedules.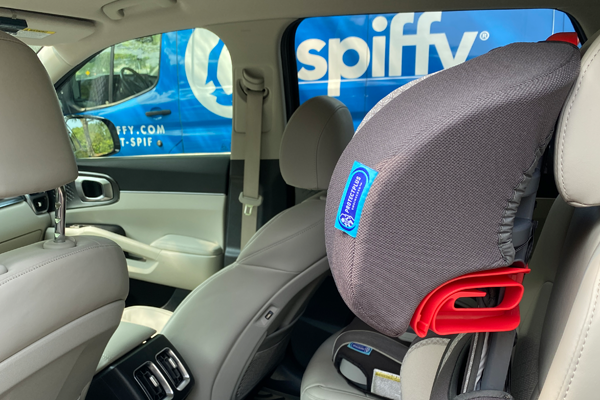 Pets are a beloved part of many families and often accompany us on our road trips. However, their presence can leave behind fur, dander, and odors that can be
challenging to remove
. Our pet hair removal upgrade is tailored to address the specific needs of pet owners. We remove all embedded pet hair with in-depth carpet vacuuming and brushing to sanitize and deodorize, leaving your vehicle clean and free from unpleasant smells. We ensure pet owners can enjoy their furry friends' company without worrying about their adventures' aftermath.
Smooth Running: Why an Oil Change is Essential After a Summer Road Trip
As the sun-soaked days of summer wind down, it's time to reflect on the memories made during those adventurous road trips and the miles that have stacked up. Among the many post-trip tasks on your checklist, one item should always take priority: an
oil change
. An oil change may seem like a routine procedure, but it plays a vital role in keeping your engine running smoothly and efficiently. After a summer road trip filled with long drives, varying terrains, and soaring temperatures, your engine has undoubtedly put in some serious work. By scheduling an oil change, you can give your vehicle the care it deserves and ensure it continues to perform at its best.
At Spiffy, we bring the convenience of an oil change right to your doorstep, allowing you to focus on other post summer pursuits. Our commitment to providing quality service that goes above and beyond traditional conventional oil changes truly sets us apart. Using advanced technology and premium products, our oil changes last up to
2x longer
than regular oil. This means fewer visits to the mechanic and more time for you to enjoy life's pleasures. With our mobile oil services, you can confidently hit the open road, knowing that your car is running smoothly and efficiently.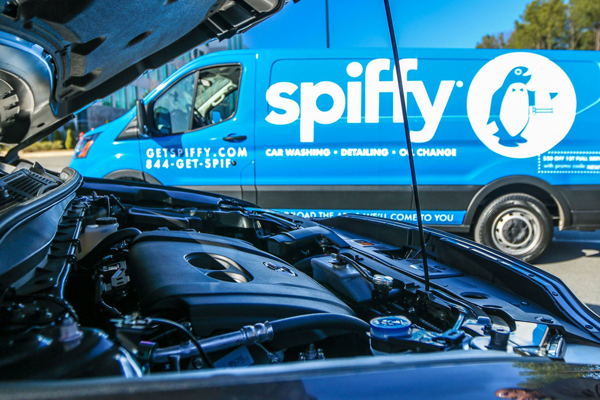 Don't let post-trip maintenance become a burden. Embrace the ease and efficiency of Spiffy Mobile Oil Change services, and give your vehicle the care it deserves. Remember, a well-maintained car paves the way for more memorable adventures, and your engine will thank you.
Tread Carefully: Maintaining and Servicing Your Tires Post-Road Trip
After a summer of epic road trips, it's time to give your tires some
well-deserved attention
, too. Our mobile tire services make scheduling a tire replacement
as easy as ordering a pizza
. No more wasting time at a tire shop. With just a few taps on your smartphone, you can choose premium tires and a service time that suits you best.
You can also rate and provide feedback on our services through the Spiffy app. Your opinion matters, and your feedback helps us improve and ensure a satisfying experience with every tire replacement.
And convenience is just the beginning. We're committed to sustainability through our Spiffy Green™ approach. We recycle and repurpose every tire we replace, reducing landfill waste and contributing to a
greener planet
. By choosing Spiffy, you're making an eco-friendly choice. So, once the sun sets on summer travels, take care of your tires with our convenient, mobile eco-friendly tire care.
Preserving Performance: Maintaining Your Vehicle's Under Carriage Integrity
Our undercarriage turbo clean upgrade is the
ultimate solution
for maintaining your vehicle's undercarriage integrity. This professional-grade service offers a complete high-pressure clean that removes road grime, salt, and other alien materials from under your car. By eliminating these substances, it prevents corrosion and potential damage to crucial undercarriage components.
Investing in the undercarriage upgrade improves your car's performance and can help extend its lifespan. Our skilled technicians leave no stone unturned when it comes to your undercarriage's cleanliness. You can expect convenience throughout the entire process, from scheduling your appointment to completing the service.
Proactively protecting your vehicle
from the elements can reduce the likelihood of costly repairs. Say goodbye to road grime, salt, and alien materials that can compromise your vehicle's vital components from your summer travels, and enjoy a smoother, safer ride for years to come.
After an exciting summer road trip season filled with adventure and relaxation, prioritize the care of your vehicle in the easiest way possible. We have you covered, from restoring the showroom shine to all the maintenance you need. You and your car deserve the Spiffy experience after your summer journeys.
Book your service today!