Many people are looking for the right next step on their career path. We're still navigating the disruptions of a global pandemic, which has left more individuals looking for something new to replace a change in jobs or kick start a new business. With customers demanding convenient, frictionless services and experiences, the mobile car care industry has begun to boom with interest.
What sets the mobile car care industry apart from other franchise opportunities is that it caters to more than one demographic. Both individual car owners and national fleets rely on the convenience of on-demand services to save time and maximize their bottom line, respectively.
Within the $14 billion US car care industry, a diverse audience for mobile car wash and detail, oil change, and preventative maintenance is poised for continued growth in the years to come.
The increasing demand for mobile car care is enticing, but it's not as simple as telling friends and family that you're now booking services. It's crucial to recognize the factors that play into launching a completely mobile business and the questions you need to answer before committing. Is this an area that you want to explore on your own, or is there a franchise opportunity that may better fit for you financially?
Fortunately, our step-by-step guide for starting your own mobile car care company will break down what to know as you consider this exciting business model.
1. Create Your Brand Image
To kick off your mobile car care business, you need to have a brand in mind. If you've been curious about starting your own company, then you may have some ideas already. If not, then now is the time to start thinking about your name and how you want your brand to be seen.
What is your company name going to be, and are you sure that it's available? How can you ensure that customers will be able to identify your company and what you do? Do you have a logo and specific colors in mind to help stand out and be memorable? All of these questions will need to be answered before you can move forward, so be sure to take ample time to figure out the specifics before you continue towards making your business a reality.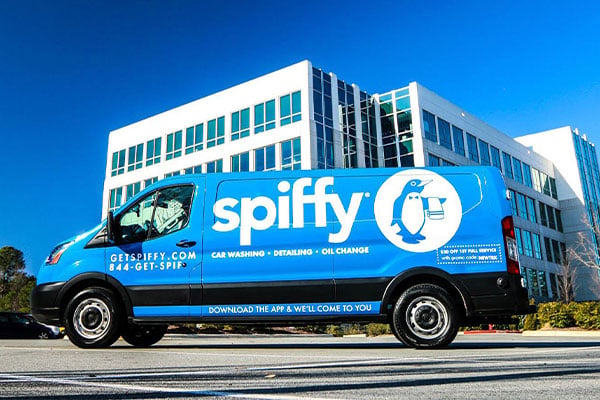 2. Draft Your Business Plan
You've got your brand image nailed down, so now what? Next comes the critical step of creating a business plan. This isn't just your plan for doing business but rather a foundation for how you plan on growing your company from the ground up. There may be some areas that don't have answers yet, but the top goal of your business plan should be to nail down your company's goals - both in the short and long term.
By understanding your goals, you can define the services you intend to sell and the local demand for them. There are two types of business plan formats: traditional and lean startup. The former is incredibly detailed, which takes longer to put together but can help when you're looking for investors or lenders to provide the capital needed to grow your business. On the other hand, lean startup plans are much shorter and visualize your business's benefits, risks, and needs.
Regardless of which plan you choose, you should know the following information about your business:
Mission statement:

what are your company goals, and why will it succeed?

Company description:

what problems are you solving with your services, and for whom?

Market analysis:

what does the market look like, and can you do better than current competitors?

Organizational structure:

what is the legal structure of your business, and who is running it?

Services:

what are you offering, and how does it benefit your customers?

Financial projections:

how much revenue can you generate in the next five years?
3. Settle on the Right Warehouse
When you're looking to make your business plan come to life, few decisions are as crucial as the location you choose to operate. This area is not something to consider lightly because the wrong warehouse location can set you back considerably.
You need to find a location that fits your financial projections since an expensive site will eat up the funds you have to grow your business. You also need to make sure that you're well located for your clientele. If the majority of your potential customers live miles away from your business, then you'll need to factor in the time it takes to travel from your warehouse to their fleets, homes, or offices.
Some of these questions may not have answers right away, which is why you need to weigh every option and how each could help or hurt your business in the short and long term. Without this consideration, your business could be held back from the beginning, which will make your job as an entrepreneur more difficult and stressful to manage.
4. Plan Your Operations
You've found a warehouse location that makes sense for your business and its financial needs. Now, how are you going to operate efficiently out of that location? How do you plan on organizing the interior of the warehouse to house your assets and equipment?
If you're conducting mobile car wash and detailing services, then you'll need an area for your service vehicles to park that isn't in the way of your supplies or equipment. There's the matter of water storage, recycling, trash receptacles, and removal. Will you use a laundry service for your used microfiber towels or purchase washing machines? Do you have a plan to mitigate wastewater during services?
If you plan to offer mobile oil changes, you'll need to think about storing the various types of oils and the vast number of oil filters available for consumers. Beyond that, how will you dispose of old oil? Like washing and detailing, oil change comes with logistical hurdles that are best solved before your business opens.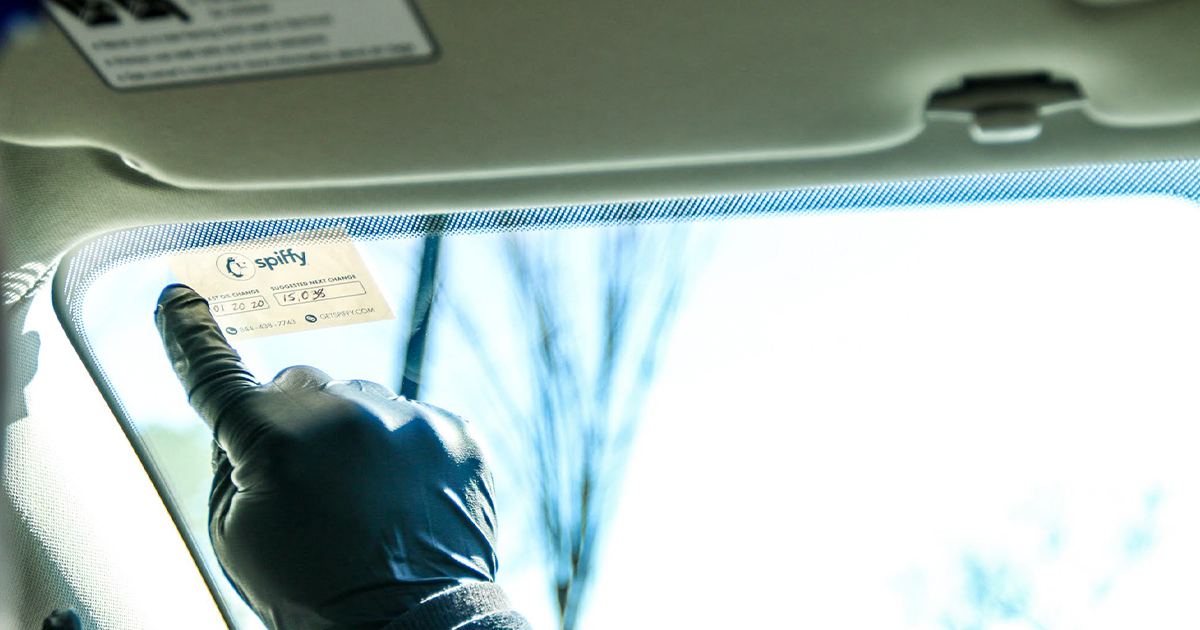 Beyond your warehouse logistics, you also need to consider an office space to lead your business. Do you have a kitchen area for you and your employees to take breaks or prepare food? Do you have your own office or a space for training new employees? Do you have a working bathroom available for employees or visitors?
Some of these are aspects that should be considered when finalizing your warehouse decision, but they can be forgotten when you're laser-focused on establishing your business.
5. Secure Your Initial Investments
With a business plan and warehouse location finalized, you're ready to secure the initial investments needed to open. Not everyone has the money required to start independently, so you'll need to consider the avenues available to gain funding. These can include asking friends and family to be angel investors, pitching your business idea to local investors, or applying for a bank loan.
The Small Business Association has a helpful way of calculating your startup costs. From there, you can decide how much cash you need to launch your business. Start applying for small business loans with local banks and institutions to nail down your initial funding.
6. Acquire Proper Licenses



Before any business can start selling their products or services to customers, they need to apply for relevant licenses and permits. These licenses and their processes will vary depending on your location. You will need the appropriate licenses to operate your business legally. The best way to get started is by registering your business name with your local government.
Beyond the licenses needed to operate, you'll also need to consider existing regulations from the Environmental Protection Agency (EPA) and the Occupational Safety and Health Administration (OSHA). As a mobile car wash and detailing business, you're responsible for the impact of your chemical products and excessive water use. As an employer, you need to ensure that your employees are protected from dangerous chemicals and equipment.
Remember, as a business owner, it's your top responsibility to obtain the appropriate licenses and operate in compliance with the regulations put in place by local, state, and federal governments.
7. Secure Your Vans and Equipment
You're nearing the end of the process of starting your mobile car care business, and now you need service vehicles. This is the most direct method for communicating who you are as a business. Everything you've determined when creating your brand comes into play here, including your logo, brand colors, and the design style you want people to associate with your company.
Depending on your financial situation and available inventory, your options may be limited. Ideally, you can buy a new van and upfit it to safely hold the water, equipment, and supplies you need for each service. You may not be able to secure a new vehicle, in which case you'll need to find the right used truck or van that can serve your needs effectively and safely operate until you raise the capital to invest in new vehicles.
Beyond the vehicles are your supplies and equipment. You'll need to choose a reliable supplier capable of providing quality products on a routine basis. This includes pressure washers, vacuums, brushes, random orbital buffers, and all sorts of detailing products, like waxes, detergents, and various cleaning chemicals for interiors and exteriors alike.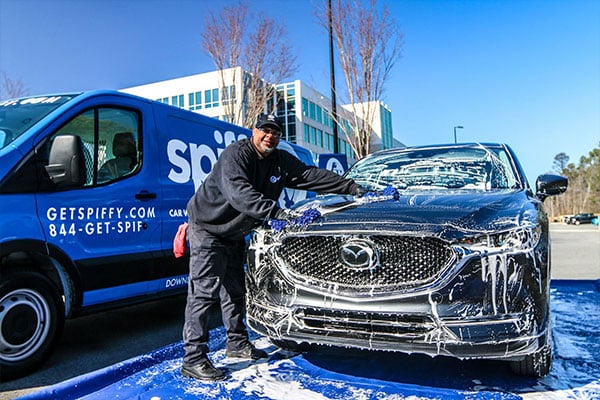 8. Taking Care of Your Customers



You've got everything you need to launch your business, and now it's time to open for services and start winning over customers. But how are you going to inform potential customers about your business? This is where your marketing plan comes into play. You need a website, a Google business page, and social media profiles that are easy to find or share. You may need to consider advertising in local newspapers or online outlets to get your brand out there.
Once you have a customer base that knows who you are and the services you offer, it's time to schedule appointments. You'll need to have a plan in place for booking these appointments. Do you want customers to call you, or will you have a way to book online? How will you communicate with your customers if you're running late or need to reschedule?
This is where having a conveniently located warehouse location can make or break your business. You need to understand the time it takes to complete your various services and how to optimize each day's schedule so that you complete every appointment with time to commute to the next customer.
But what happens when a customer reaches out with an issue? Or worse, what if that customer posts their frustrations on your Google business page or social media profiles?
Other than doing the best job possible every time, you need to be ready to handle these prickly moments with a well-thought-out and respectful response. You don't want to risk losing a customer's business for good, especially if that customer is angry enough to share their experience with friends or family members.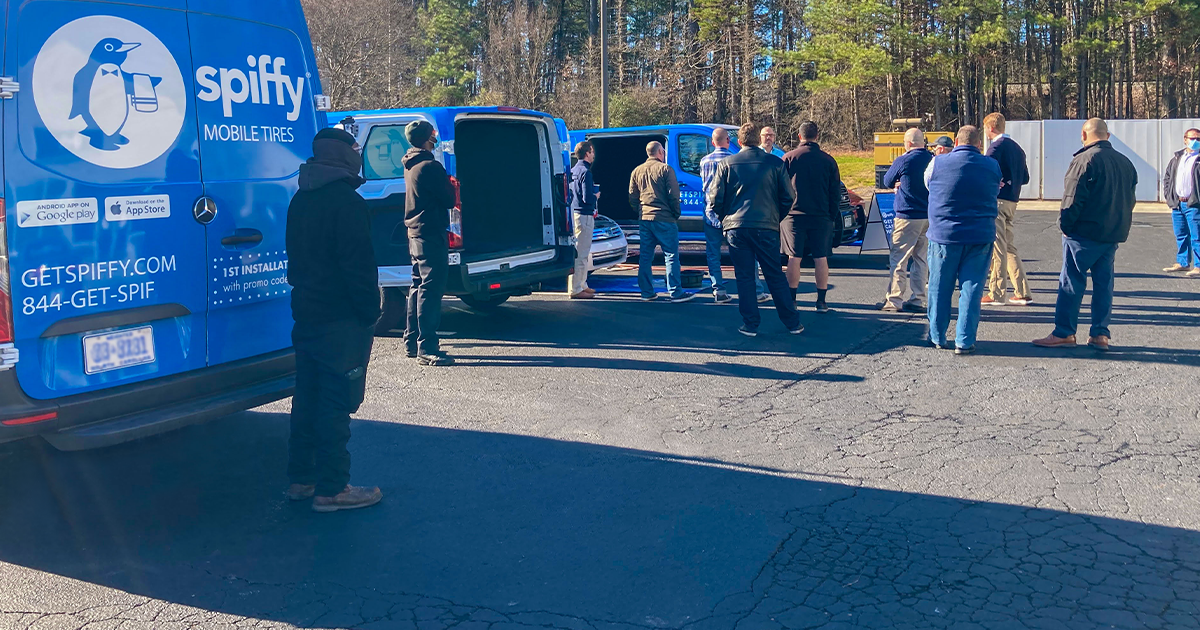 Save Time by Starting a Mobile Car Care Franchise!



The step-by-step process of launching a mobile car care business is challenging. While we attempted to cover everything you should expect, countless other steps may pop up depending on where and how you plan to operate. And the vast majority of the process is dedicated to getting your business off the ground. That doesn't even cover the essential part of running a successful business: providing quality services for customers committed to your brand.
Fortunately, you can skip the challenges of starting your mobile car care business by franchising with Spiffy. Since 2014, we've continued to expand our unique brand of on-demand car care from Durham, North Carolina, to over 30 cities in 16 different states. We're eager to help our franchise owners get their businesses off the ground with ease, so they can focus their passions on providing the best quality of service possible.
If you're interested in learning more about starting your Spiffy franchise, we're here to ensure you make an informed decision. Consider attending one of our Discovery Day events for an inside look at our business and the technology we've built that allows us to run mobile operations efficiently.
Posted in Franchising